Archive for the 'News' Category

Eureka Curriculum Day – 5th January 2018
Below is a link with photos and short video explaining about the launch of our new topic.
http://www.edp24.co.uk/news/education/norwich-school-pupils-taken-out-of-this-world-for-new-term-topic-1-5344844
Thank you to our visitors who made the day such a success.
Creative

Learning 
03/11/17
Bessie's Wings – an art exhibition inspired by the American aviatrix Bessie Coleman. In the Millennium Library until 1st December – go and have a look if you are near the Forum. See twitter comment: We've seen the artwork produced by talented pupils from @QPrimary and we thoroughly recommend popping along to see it for yourself!
The children had an afternoon workshop in the 2nd Air Division Memorial Library where the children had some fun finding out about inspirational Norfolk women and Norfolk's aviation heritage through images taken from Picture Norfolk
and the 2nd Air Division Digital Archive
and then went time travelling (using green screen technology) to join the characters in the photos.
The exhibition was officially launched by Jan Holden, Head of Norfolk Library and Information Service, and will be available to view in the Norfolk and Norwich Millennium Library until the 3rd December.
01/11/17
We celebrated our Creativity Focus today in a special assembly, where growth mindset certificates were given out to children and then four lucky winners received goody bags. Prizes were also given to children who had shown creativity in their home learning. The certificates and prizes were presented by Mik the local artist, who worked with the children on our house display. Well done to everyone who showed amazing creativity and thank you for your support during this focus.
16/10/17
We love our new house display, which is in the school hall.  Have a look when you next walk past.  I think you will agree, with the support from Mik a local artist, the children have done an amazing job.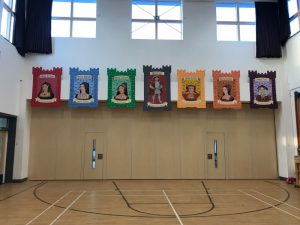 09/10/17
We are delighted to announce that the Bessie's Wings Art Exhibition is currently being displayed in the City Hall in London. STOP PRESS … we will be exhibiting the work of Queen's Hill Primary School students at the Millennium Library in the Forum with a special opening on Friday 3rd November at 4.00pm more details to follow.
Harvest Assembly
On Friday 29th September, Years 1-6 gathered in the hall to share their harvest festival themed songs, poems, art work and research. The vibe in the hall was heart-warming and all children enjoyed singing along and applauding classes hard work. The room was filled with lots of creativity! Year 6 shared a poem, Year 5 sang 'Let it Grow' a re-make of Frozen's 'Let it Go', Year 4 beautifully sang a song that they had been learning, Year 3 rapped a harvest festival rap (written by the very talented Mr King), Year 2 created art work inspired by Giuseppe Arcimboldo (an artist who covers faces in fruit and vegetables) and Year 1 shared a song with accompanying actions. Well Done to all children for their involvement and hard work!
Today we had our Creative Learning Curriculum Day! The children had lots of fun exploring a variety of different activities including, dancing, making musical instruments, story telling, graffiti, drama and creating fairy houses.
The children will be bringing home a page of exciting Creative Learning activities for you to help them complete. When your child has completed an activity please share with their class teacher. We would love to see what you have been doing!
You can then take a photo and post entries into the box outside the main hall to be entered into a competition. Remember to add your name and year group!
Lets get creative!
This morning we had a special assembly to officially name the new Library the 'Connie Forsyth Library' after our first chair of Governors with special guests, ex-pupils and staff, as well as Morgan Sindall builders who built the extension. We then showcased to our visitors our passion for learning.
Below is the article from the local newspaper.
http://www.edp24.co.uk/news/education/from-29-pupils-to-600-queen-s-hill-primary-school-celebrates-unveiling-of-4-1m-extension-work-1-5097178
At lunchtime we had a game of netball and football with staff vs parents.
We also had our Year 6 Graduation Assembly.  Good luck in your new high schools.
At the end of the day the community were invited to come and celebrate the new extension.
At this event we had lots of activities.
Treasure Trail – a trail so see the new classrooms and facilities in our school
Community Stalls – come and find out what's happening in your community and the History of Queens Hills
Sports Activities – have a go at tennis, multi skills or gymnastics  
Art activity – help to create a giant piece of artwork
and live performance from The Good Times Band.
14/06/17 Sports Day
Winners: EYFS and KS1 Parr
Winners: KS2 Seymour
Well done to everyone who participated in Sports Day.  Everyone worked really hard and the Sports Ambassadors from Ormiston Victory Academy were great at organising activities and keeping the children motivated.  Thank you to all the adults who came as spectators to support the event.
16/06/17
All the children who achieved their Platinum Certificate (Reading 4 times or more for 40 weeks!!) also received a Golden Ticket which entitled them to a book of their choice.  As you can see from the photos they were delighted with their new books, and Mrs Maskell is very proud of them.
o6/06/17
Nursery and EYFS, to celebrate reading had a story-teller visit the new Connie Forsyth Library.  The children loved hearing the stories and the laughter could be heard up the corridor.
09/06/17
Well done to all of the children with 30+ reading stars! To celebrate, Queen's Hill had their very own festival party for KS1 and KS2 with Ukulele Simon. We sang, danced, jammed and learnt all about how to become musicians.
03/07/17
We are delighted to say we have achieved Silver Award.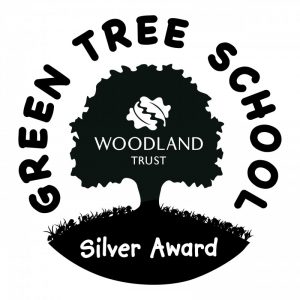 Whizzy Wednesday planned events.
Week 3 – Skipping
Week 4 – Nature Search
Week 5 – Bouncing Balls
Week 6 – Wheels
Week 7 – Sticks
Week 2 14/06/17 Whizzy Wednesday – Bug Hunt
The children at lunchtime today,  had the chance to go on a bug hunt and put any bugs they found in the school Bug Hotel.
Week 1 07/06/17 – Whizzy Wednesday – Outdoor Reading
Books and beanbags were taken outside for children to read and share a story.
06/06/17
Today was the launch of our new focus of Outdoor Learning.  Not even the weather could spoil the Outdoor Learning day. Children have had a great day completing a variety of activities including bug hunting, art, sport, outdoor safety and reading/drama in the tents. Watch this space for 50 things to do with your children outdoors, coming soon!
We are delighted from all of our outdoor activities at the launch of our topic we have achieved the Bronze Award from the Woodland Trust.