Family Support Work
Laura Baker is our school Parent Support Advisor (PSA). Please do get in contact with her if you have any difficulties on 07825130002 or laura.baker@benjaminfoundation.co.uk. If you are unable to get through on the phone line, please leave a message with your name and contact details.
School Contact
Although we are not able to welcome parents and carers into the school at the moment, our staff are more than happy to answer any questions or queries over the phone or via email. Please email office@queenshill.norfolk.sch.uk  with any queries or call the school on 0160 746857.
If you or your family have been affected by a bereavement recently, you may wish
to listen to this story by Mrs Sheppard. This is a story which deals gently with issues of loss and death and we often share with children in who have been affected by loss in school.
Do you or your family need support this winter?
Please note that the school are happy to support you with making an application for any of the below help. Please contact the school office. 
Norfolk Winter Support Offer
Norfolk County Council know that for many people this winter will be challenging for a variety of reasons, and there will be a lot of people who will need support. If you are suffering from hardship or are unsure how to pay your bills, keep warm or buy food, you can apply to the support offer. You can do this online by clicking here.  If you would like support with this, please contact the school office.
The Norfolk Assistance Scheme
The Norfolk Assistance Scheme (NAS) helps people who are unable to meet their immediate needs or need practical support to set up home. There are many people in our community who need this support, and even more so during the coronavirus outbreak.
The scheme can therefore help people who are struggling because of coronavirus, for example those who have been furloughed, are on reduced hours or have been made redundant. We've put in extra support to help people this winter. Please follow this link to find out if you are eligible for the scheme and to apply online please click here.
Self-isolation support
Some residents are entitled to a self-isolation support payment of £500. To find out more please click here.
Further Information for Parents and Carers
Information for parents and carers for September 2020 - see link below.
https://www.gov.uk/government/publications/what-parents-and-carers-need-to-know-about-early-years-providers-schools-and-colleges-during-the-coronavirus-covid-19-outbreak/what-parents-and-carers-need-to-know-about-early-years-providers-schools-and-colleges-in-the-autumn-term
Safeguarding 
Our school Designated Safeguarding Lead is Mrs Sheppard. Alternative safeguarding leads are Jennifer Sims (Assistant Head Teacher), Matthew Cross (Assistant Head Teacher), Marie Compton (EYFS Leader) and Jayne Eastaugh (Nurture HLTA).
If you wish to raise concerns about a child (your own child or someone else's child), you can contact the Norfolk Children's Advice and Duty Service (CADS) on 0344 800 8020
Advice and Support 
Childline 
Lots of advice for children, young people and parents/ carers. Plenty of ideas for activities too. Call on 0800 1111or access resources and support at www.childline.org.uk/
See, Hear, Respond (Barnardo's)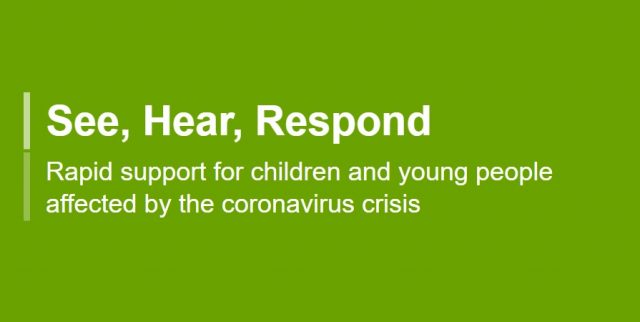 The See, Hear, Respond Partnership is a new service funded by the Department for Education.  The See, Hear, Respond Partnership will quickly identify and support children, young people and families who are struggling to cope with the impacts of coronavirus. Its aim is to provide early intervention before these children reach the threshold for statutory intervention. For further information, please follow the link below. Please contact the school office if you would like further information regarding referrals.
Young Minds
Lots of information about young people's mental health, with various resources available. Parents' helpline also available. Visit their website for more information regarding their Coronavirus advice and mental health support.
Just One Norfolk

A local resource providing advice on all aspects of life for a child/ young person. Specific information about emotional health for young people and parents. An App is also available.
https://www.justonenorfolk.nhs.uk/
NHS Wellbeing Service
The NHS Wellbeing Service are offering webinars to support with worry during coronavirus times. Follow the link below to access these resources and sign up:
www.wellbeingnands.co.uk/norfolk/course/online-coping-with-worry-during-coronavirus-times/
Compliance with Family Child Court Arrangements
If you have questions regarding compliance with family child court arrangement orders, you might find the following link useful: https://www.judiciary.uk/announcements/coronavirus-crisis-guidance-on-compliance-with-family-court-child-arrangement-orders/?fbclid=IwAR1n_7LQfA_B478L-cfm2aoTRe4oLdw3PHc8b7D-stug8e7VYdQj8JeekVU
Following government guidance on 25/3/20. Please consult government guidelines for up to date guidance.
Top Tips 
Routine
Humans tend to like routine. Our bodies appreciate it, and our minds can be calmed by the predictability of it. With schools closed, it might be tempting to treat every day like a weekend. It is important, though, to create a new routine that includes the important daily activities, such as those below. You might even get your child to wear their school uniform on a weekday!
Eat Well
Being at home more might mean easier access to treats. These can make your mood and energy levels fluctuate. Try to keep a routine to mealtimes and choose foods that will nourish the mind and body. See www.nhs.uk/change4life for tips and ideas. If you are finding it hard to get hold of food, then please get in touch with the school office and we can signpost you for support.
Sleep well
Good quality sleep promotes emotional wellbeing, and helps your body stay healthy too. Try to keep a good bedtime routine throughout the week. If you are struggling with sleep, see www.youngminds.org.uk/find-help/feelings-and-symptoms/sleep-problems for tips and advice.
Keep active
Meaningful activity (doing things that you enjoy and/ or get a sense of achievement out of) is important for mental health. This can be anything from creating your own board game to having a home disco or making a rocket out of junk. Schedule in some physical activity every day too. Even if you are at home a lot, you can still get your 60 minutes of daily exercise, e.g. dancing, or exercise videos (e.g. see YouTube or www.bbcchildreninneed.co.uk/schools/primary-school/joe-wicks-work-out-videos/ ). Please ensure you keep to government guidelines regarding leaving your home.
Keep learning
School will provide work for children to do whilst we are closed. Learning is good for confidence and can reduce boredom. Plan learning into every day. If you are running out of books for your child to read or are lacking in resources (e.g. paper and pens), then please contact the school office and we may be able to help.
Keep in touch with friends and family
You must follow government guidelines in regards to contact with others. However, there are many ways to continue communication safely (e.g. share photos and messages through texts, calls, email or social media). Keeping in touch with friends and family will be good for your mental health as well as theirs.
Stay informed, not overwhelmed
The media is focusing a lot on health updates at the moment, and our conversations, social media and emails are too. Whilst it is important to keep updated, if you're feeling overwhelmed perhaps restrict your use of social media/ the news and encourage alternative conversations with friends/ family.
Help Hub: School updates to share with families
The Help Hub has provided schools with these updates to share with families regarding some local charities and support available.
'Everybody Worries'
The author John Burgerman shares the story 'Everybody Worries'. Parents may like to watch the video and think about sharing it with their family if suitable.
https://www.youtube.com/watch?v=ST3WHJt4fZw
Seven techniques for helping kids keep calm
Even very young children can feel stressed and anxious, especially during times of change or upheaval. Luckily, there are lots of simple activities you can do together to help your little one learn to calm themselves. Follow the link below to access these resources:
https://www.bbc.co.uk/cbeebies/joinin/seven-techniques-for-helping-kids-keep-calm
Advice for key worker parents
Read this document for helping your child adapt to changes due to the Covid-19 pandemic.