We share a passion for learning
At Queen's Hill Primary School, we aim to provide a rich, inclusive and creative curriculum which empowers our children to become confident, reflective and curious learners.
A curriculum which is broad and balanced and which builds on the knowledge, understanding and skills of all children, whatever their starting points, as they progress through each Key Stage. The curriculum incorporates the statutory requirements of the National Curriculum 2014 and other experiences and opportunities which best meet the learning and developmental needs of the pupils in our school. The aim of our curriculum is for pupils to have the requisite skills to be successful, independent and motivated learners in readiness for their next stage of education. We believe it is important that the curriculum considers the development of the whole child, with academic success only being one part of this.
National requirements and school requirements are mapped out as a whole school and then individual year groups plan the curriculum for their pupils accordingly. The curriculum is underpinned by the school's 'crowns' (concentration, challenge, grit and determination, teamwork, reflection, creativity, curiosity and independence). These are taught on their own and through other areas of the curriculum, including assemblies. The spiritual, moral, social and cultural development of our pupils and their understanding of the core values of our society are woven through the curriculum.
We comply with our duties in the Equality Act 2010 and the Special Educational Needs and Disability Regulations 2014 about making the curriculum accessible for those with disabilities or special educational needs. We have two Inclusion Leaders (qualified SENCOs) who oversee our provision for pupils on the SEND register. Along with the AHT for Curriculum Development they ensure that our curriculum is inclusive and fit for purpose.
A vision for Art and Design at Queen's Hill Primary School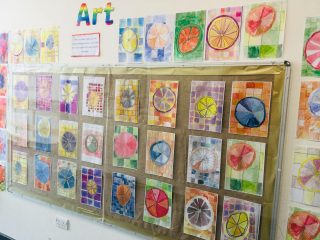 At Queen's Hill, we believe that the Art and Design curricular should stimulate creativity and fire children's imaginations. In our school, we combine theory with practice to provide a rounded approach necessary for children to study Art and Design in depth in the future. We want to encourage our children to express themselves through art and inspire them to pursue creative career paths. Our curriculum is designed to develop children's cultural capital and allow them to explore a variety of artists, techniques and media. We do this because British Values are very important to us and we aspire to expose children to artists from diverse backgrounds and celebrate their contributions to our cultural heritage. 
We aim to provide children with a strong creative foundation in early years. Children are encouraged to be independent with their creations and take ownership for their work. We expose them to a wide range of materials and resources and encourage them to use them without limits. As the children move up to KS1 and KS2, they are given opportunities to work with different materials and techniques such as printmaking and sculpture. By the end of their primary education, we aspire for the children to be equipped with life-long skills and cherished memories of the art pieces and inventions they have created. We encourage children to actively participate in collaborative Art projects through cooperation together, with local artists and linking our work with the local area. We believe that this allows children to relate personally to the work they are creating but also to appreciate what's on their doorstep. 
Bringing Art and Design into life through unforgettable experiences is at the heart of Queen's Hill Primary
Watch creative art videos created by staff at Queen's Hill Primary School
This page was updated: December 2021
A vision for Computing at Queen's Hill Primary School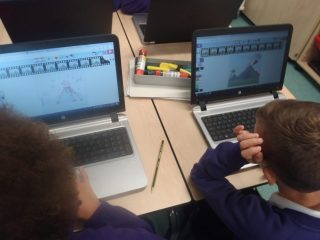 At Queen's Hill Primary School we have a clear and simple vision: the children should be online-safe, online-inspired and online-confident.
Computing is an integral part of our everyday life and will play an immeasurable part in our children's futures.  We will provide all of our children with the skills, creativity and enthusiasm to live and thrive in a world increasingly dependent on computing. As computing technology underpins today's modern lifestyle it is essential that all pupils gain the confidence and ability that they need in this subject, to prepare them for the challenge of a rapidly developing and changing technological world.
The children have many opportunities to use technology. While all the basics IT skills are covered, eg making a simple Word document, developing typing skills and using Paint programs, the children's experience soon develops to publishing blogs, exploring stop-frame animation and coding. We believe it gives them all the experiences they need to prepare them for 21st century lifestyles.
The use of Computing also enhances and extends our children's learning across the whole curriculum as we use an increasing number of digital tools and platforms in many other subject areas.
There are class set laptops and iPads available for at least a slot each week to teach the Computing curriculum so that children get a first-hand experience. Every computer in the school is linked to the school's filtered broadband connection.
Each child will be able to access the Internet and use the World Wide Web in a safe and respectful way.  They will understand the necessary precautions to take, to stay safe and know where to seek help. Children will also utilise the Web efficiently to enhance their learning of all subjects. 
We currently use resources from the The National Centre for Computing Education (NCCE), which is funded by the Department for Education to support our curriculum delivery. 
Skills Progression document, linked to the NCCE Framework
Get a better understanding of progression through each key stage and year group by viewing the curriculum journey poster.
This page was updated: December 2021
A vision for English at Queen's Hill Primary School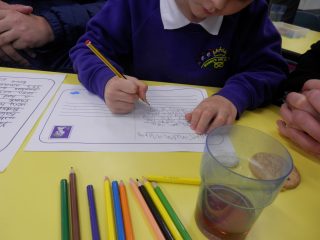 At Queen's Hill we want our children to love expressing themselves through writing and feel proud of their writing achievements. Children will be motivated to write through the use of engaging texts, experiences and a range of other exciting stimuli. We strive to equip children to develop a rich vocabulary which can help them bring their writing to life. Our writing is purposeful and covers a variety of genres and key skills, which builds upon prior knowledge. Teachers model the writing process and demonstrate the ambitious high standards expected of all children.
At Queen's Hill we want our children to be confident readers and have a lifelong passion for reading. Reading is at the heart of everything we do at Queen's Hill. Children are exposed to high quality texts across the curriculum and reading skills are taught explicitly in all year groups. Reading is a key part of our daily routine and it is celebrated through our 'Read for a Star' challenge. 
In EYFS and Key Stage One, key reading and phonic skills are taught through Read Write Inc phonics programme. In Key Stage Two, we use 'Reading Masters' to support our children with their development of key comprehension skills. Reading for pleasure is a cornerstone of our approach, we are very fortunate to have two school libraries which children can access. 
This page was updated: January 2022
A vision for Geography at Queen's Hill Primary School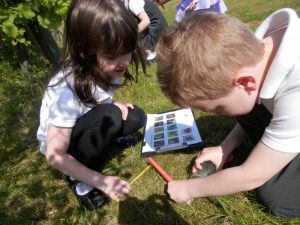 At Queen's Hill Primary School, we strive for excellence in Geography. The study of geography at Queen's Hill stimulates an interest in and a sense of wonder about places.  This happens as soon as you enter the school... 
Our rationale for both the topics covered and the teaching strategies used is to enable young people make sense of a complex and dynamically changing world. It explains where places are, how places and landscapes are formed, how people and their environment interact, and how a diverse range of economies, societies and environments are interconnected.  
From the Foundation stage and Key stage one we ensure that the children have an understanding of themselves in their own locality and can relate this to the rest of the world. This is achieved by using world maps, getting to know each child and their links across the globe, teaching subject specific vocabulary and undertaking local field work.
In Key stage 2 children continue with the fieldwork as an essential element of their studies while extending their knowledge and understanding beyond the local area which includes European countries and North and South America. They will explore a range of the world's most significant human and physical features such as rivers, volcanoes and natural disasters.
By the end of KS2 our aim is that all children are able to confidently navigate around the world using atlas, maps and digital technology and be able to use geographical vocabulary to explain human and physical differences of countries from around the world in readiness for their secondary education and more importantly to succeed as global citizens!  At a time when topics such as climate change, water availability, natural resources are as important as ever.  These example are much easier understood  by those who know geography well. We believe that geography delivered in this way will help children to maximise their potential and become successful and happy learners.
Key skills progression Geography
Geography skills and knowledge grid
This page was updated: Decemeber 2022
A vision for History at Queen's Hill Primary School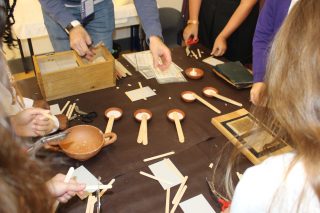 Queen's Hill's Vision for history is to equip children with a range of skills and knowledge that will enable them to ask historically accurate questions, carry out historical enquiries and learn from the past in a way that heightens their understanding of both the present and the future. Through analysis of evidence, detailed understanding of significant events and people of the past and exploration through interactive curriculum days and school trips, children will take away a broad and balanced knowledge of a range of historical topics. This creates a strong foundation of analytical skills, understanding of different perspectives and a passion for discovering new knowledge about the past. We feel that it is important to learn about the experiences and achievements of a breadth of historical figures and strive to empower children with the knowledge of diverse historical individuals and events.
At Queen's Hill we ensure that current learning is linked to both prior and future historical knowledge. This allows children to build a coherent timeline of key historical events and allows knowledge to be deeply embedded. We focus on drawing comparisons between past and modern life in order to promote understanding of how history impacts the way we live our lives today. This will allow children to reflect on present time and how events today will impact our future. Through analysing different perspectives of past events, children are able to view others with understanding and compassion. At Queen's Hill, we ensure that all children engage in history through active learning such as role play, handling and analysing evidence and immersive experiences. As such, all children leave Queen's Hill Primary School with a strong foundation of knowledge for historical enquiry and a desire to continue to ask questions about the past as historians. 
History - key skills progression
This page was updated: December 2021
A vision for Languages at Queen's Hill Primary School
At Queen's Hill we believe that all children should have a passion for languages. We believe that learning a language provides a child with some of the most valuable educational, social and cultural experiences to equip them for their future. Languages help the children to develop their communication skills including key speaking and listening skills to extend their knowledge of how language works. Learning another language gives children a new perspective on the world, encouraging them to understand their own cultures and those of others. In other words, languages broaden your mind and form a part of your identity where you can be at home anywhere. 
At Queen's Hill Primary School, we have specialist teachers who give teachers without the language skills the confidence to teach and inspire students to learn and share languages. We use Languagenut to engage the children and to teach accurate pronunciation and spelling. The children can practise and apply new skills at school and at home to further their passion of languages. We strive to use languages across the curriculum to promote a love for languages. 
This page was updated: September 2022
A Vision for Maths at Queen's Hill Primary School
Queen's Hill Vision for maths.
At Queen's Hill Primary School, the belief that we are all mathematicians is promoted throughout the school. Our pupils of all ages will work towards acquiring a deep, long-term, secure and adaptable understanding of the subject whilst fostering a positive attitude towards mathematics and a passion for the subject through the application of the NCETM Maths Mastery approach.
Mathematics is essential to everyday life, critical to science, technology and engineering, and necessary for financial literacy and most forms of employment. Therefore, at Queen's Hill, it is taught as a highly interconnected discipline, which is threaded through different areas of the curriculum, as well as being an essential foundation for understanding the world.
The progression within the NCETM approach allows for a secure and deep understanding of mathematical concepts, taught through manageable steps. Mistakes and misconceptions are an essential part of learning, along with challenge, which is provided through rich and sophisticated problem solving opportunities.
We aim for all pupils to:
become fluent in the fundamentals of mathematics so that they develop conceptual understanding and the ability to recall and apply knowledge rapidly and accurately.
be able to solve problems by applying their mathematics to a variety of problems with increasing sophistication, including in unfamiliar contexts and to model real-life scenarios.
reason mathematically by following a line of enquiry and develop and present a justification, argument or proof using mathematical language.
have an appreciation of number and number operations, which enables mental calculations and written procedures to be performed efficiently, fluently and accurately to be successful in mathematics.
We encourage a deeper understanding of mathematics through termly whole-school investigations. This enables pupils to solve problems, reason, think logically and work systematically providing opportunities for pupils to work with initiative, both independently and in cooperation with others.
At Queen's Hill we have fostered a love for mathematics in our pupils, which has produced some extremely able mathematicians. In order to celebrate their achievements we organise STEM trips and enter pupils into regular regional and national mathematical competitions and challenges. 
---
QH Reception Maths Yearly Overview
---
Key Skills - Multiplication and Division
Key Skills - Number and Place Value
Key Skills - Position and Direction
Key Skills - Properties of Shape
Key Skills - Ratio and Proportion
Key Skills - Addition and Subtraction
Key Skills - Fractions and Decimals
This page was last updated: January 2022
A Vision for Music at Queen's Hill Primary School
At Queen's Hill, we believe that the music curriculum should provide opportunities for all children to create, play, perform and enjoy music whilst developing skills and appreciation for music. In our school, we encourage children's understanding and enjoyment of music through an active involvement in listening, composing, improvising and performing. This provides a range of learners to access and enjoy music. Through Norca and Charanga, children develop their musical skill. Children are offered opportunities to learn and perform as part of a class, through small group and/or individual lessons.
British Values are very important to us and we aspire to expose children to music/musicians from diverse backgrounds and celebrate their contributions to our cultural heritage. Our composer of the month focus exposes children to a range of genres.
We aim to provide children with a strong foundation in early years. Children are exposed to the foundations of music through Charanga lessons and are able to explore instruments through continuous provision. As children progress through the school, opportunities are given to build on the foundation and develop a deep, secure understanding of music as well as apply their skills with instrumental lessons.
Singing is an important part of our school. Weekly singing and class assemblies expose children, in addition to music lessons, to a range of songs to allow them to practice and express such skill. During some assemblies, music from different cultures are played and listened to.  
Year 2 and 3 Norca Music Curriculum 2022-2023
This page was updated: December 2021
A vision for PE at Queen's Hill Primary School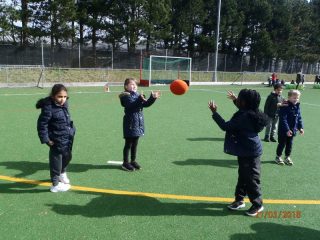 Queen's Hill Vision for PE is to promote the health and well-being of every child, through the holistic development of pupils through positive Physical Activity opportunities for all.
At Queen's Hill we want all children to have a passion for physical activity which will continue into adulthood. We believe that children should have access to high quality lessons that are fun, engaging and will inspire them to lead physically active lives.
Our PE curriculum is inclusive to ensure that pupils of all abilities access the range of activities we offer. Within our PE curriculum, children learn to take responsibility for their own choices and behaviour. We also recognise that children should have the opportunity to participate in competitive sports giving them the prospect of understanding what competition feels like; what it is like to be part of a team; and to be able to both win and lose with equal grace. We pride ourselves on the number of extra – curricular activities available to our children and they can take on leadership roles in which they can build character and embed values such as fairness and respect. At Queen's Hill we have a full-time PE specialist teacher to further enhance the provision in our subject.
key Knowledge progression by the end of year 2
key Knowledge progression by the end of year 4
key Knowledge progression by the end of year 6
Click here for more information on our use of Sports Premium
This page was updated: December 2021
A vision for Religious Education (RE) at Queen's Hill Primary School
Children need the opportunity to discuss challenging questions about the meaning and purpose of life, beliefs, the self, issues of right and wrong and what it is to be human. 
(DfE 2010)
Religious Education is perhaps one subject which asks more questions than it answers, at Queen's Hill Primary and Nursery School, children engage in an enquiry approach, developing the skills of presenting a reasoned argument, reflection and expression of belief. We welcome and celebrate the diversity found within our school community and are sensitive to the background and beliefs of each of our children. We will provide opportunities for children to articulate their own beliefs, ideas, values and experiences whilst respecting the rights of others to differ.
At Queen's Hill Primary and Nursery School, we aim to provide children with a safe and open environment in which they feel supported to consider life's big questions. Our objective is for children to feel secure enough to contemplate the complexities of life, in order that they can begin to make sense of what they themselves believe and start to develop their identity both as individuals and as global citizens. Children will learn to appraise the value of differing sources of information, to express their insights in response to these and to agree or disagree respectfully, promoting a culture of tolerance and understanding. 
The Religious Studies curriculum at Queen's Hill Primary and Nursery School will promote the spiritual, moral, social and cultural development of our children. Our curriculum will also prepare our pupils for the opportunities, responsibilities and experiences of later life. Children will be able to make sense of religion and worldviews around them and begin to understand the complex world in which they live, while making academically informed judgements about important matters of religion and belief. 
Through following the Norfolk Agreed Syllabus, children will:
Know and understand a range of religious and non-religious worldviews by learning to see these through theological, philosophical and human/social science perspectives.
Express ideas and insights about the nature, significance and impact of religious and non-religious worldviews through a multi-disciplinary approach.
Gain and deploy skills rooted in theology, philosophy and the human/social sciences to engage critically with religious and non-religious worldviews.
Click here to download our whole-school RE skills curriculum
Click here to view a copy of the Norfolk religious education agreed syllabus 
This page was updated: December 2021
A vision for Relationships, Sex and Health Education (RSHE) at Queen's Hill Primary School
Queen's Hills' Vision for Relationships, Sex and Health Education is that children are equipped with the knowledge and skills they need to make and maintain positive relationships that foster a passion for learning in school and into their futures. At Queens Hill we recognise the pivotal role that relationships have in learning and interacting with the world around us. We intend for every child to leave Queens Hill as tolerant, understanding and self-aware people who are ready to contribute to society.
At Queens Hill we prioritise children's safety and RSHE at QHPS equips children, at an age appropriate level, with the language and strategies to recognise and report abuse. At Queen's Hill, we aim to ensure that every child has a holistic understanding of health, and is informed and able to maintain their health, including their mental wellbeing. At Queens Hill, RSHE is an open conversation, with clear boundaries where children problem solve and re-enact scenarios. We intend to ensure that all children have the vocabulary available to them to identify their feelings and emotions and know where to get support when necessary. But most importantly, children understand that it is natural to feel a range of different emotions on any given day.  At Queens Hill, RSHE promotes inclusion and teaches children about diversity in the compositions of families, gender, race and disabilities. 
In essence, the aim for RSHE at Queens Hill is that children leave the school with the knowledge and skills to maintain their health, positive relationships and safety.
We use RSHE teaching resources created for Norfolk County Council alongside Educator Solutions to support our deliver of this subject area,  
Click here to download RSHE whole-school curriculum
Click here to view our policy
This page was updated: January 2023
A vision for Science at Queen's Hill Primary School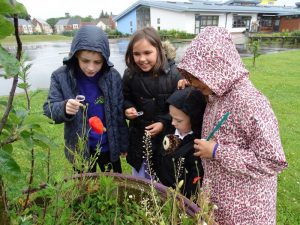 Queen's Hill's vision for science is to equip children with a range of skills and knowledge that will enable them to ask scientifically accurate questions and carry out scientific enquiries in order to learn about our world and how it is changing. Children's scientific knowledge and skills are built upon each year as they reflect on past topics and key concepts learnt. We feel that it is important that children explore key content from the three disciplines of biology, chemistry and physics and build confidence in applying their skills to conduct scientific experiments. Children will also develop a wide scientific vocabulary that they will be able to apply when discussing new concepts. 
At Queen's Hill, we have developed an exciting curriculum, whereby children are fully immersed in their learning. Children learn to design and conduct practical experiments and evaluate outcomes in order to enable them to ask questions and to find answers. We have an outdoor classroom that all year groups enjoy, and we offer the children the opportunity to use a range of high-quality scientific equipment. In a world that is facing some considerable environmental challenges, we hope at Queen's Hill we can plant the seed that inspires the next generation of scientists.
Click here to view our whole school Science curriculum
Science Long Term Plan 2022-23
We use PLAN primary science resources to support the planning and delivery of our science curriculum