Supporting at home during school closure
General support websites and information:
School social stories for coming back to school can be found here.
Social story (social distancing).
iPad apps and usage with your child at home.
Click here to sign up for thirty days free access to Widgit Online.  Use the promo code WIDGIT30. This software helps create visual resources and is used in school.
SENsational Families Charity have some good support and advice on their website, including links to sensory circuits, which can be a great way to start the day at home and school.
Although the school is closed to most pupils, we are still able to offer support remotely to families. Laura Baker is our school Parent Support Advisor (PSA). Please do get in contact with her if you have any difficulties on 07825130002 or laura.baker@benjaminfoundation.co.uk. If you are unable to get through on the phone line, please leave a message with your name and contact details.
Learning support:
Sign up and use Clicker to support with spelling at home.
Contact your child's class teacher for a temporary Nessy reading and spelling login whilst learning continues at home.
Many children will learn well when engaged in play. There are some super ideas here.
Advice from Autistica about how to support autistic children with routine and learning whilst schools are closed.
Communication and interaction skills and support:
Speaking and listening activity for home.
Mrs Rogers has kindly filmed some tips for you to have a go at your own home Lego learning. Watch video 1 here and then watch video 2 here.
Bouncy Balls - This is a really fun app that allows you to control the balls with your microphone on your computer. A lovely tool to encourage vocalisations or quiet. Try it here.
What's in the box attention videos can be found on Molly's YouTube channel.
PECS have shared some free resource cards and videos of interactive and attention grabbing activities on their website.
Physical and sensory support:
Ideas for developing fine motor skills at home.
Fine motor activity kit - getting the joints in your hands moving ready for writing.
Accessible sensory activities on 'Jensory' YouTube channel. New videos on Monday, Wednesdays and Fridays.
'Gympanzees' YouTube channel supports physical development skills and activities.
Join in with sensory circuits videos following this link.
Feel Theatre have been doing regular Instagram posts giving you ideas on sensory craft activities or making sensory objects. They are unfortunately only available on Instagram but if you do have this app then well worth a watch.
Social and emotional support:
Supporting Neurodiverse Children in Challenging Times Such as During Self-Isolation. Click here to view.
Autism Anglia have a range of additional resources.
Child Mind Institute have some information on managing ADHD and anxiety throughout coronavirus.
It's important to look after ourselves mentally and emotionally.
Help in a crisis for those with mental health needs.
Health and well being during coronavirus.
Visit the Great Minds Together website where there are a range of helpful links and free downloads, aiming to support social and emotional need during school closure.
Zones of regulation resources.
Watch the PATHS video about the turtle called Twiggle, who learns to manage his strong feelings and make good choices about his behaviour.
Another PATHS story about a little girl who feels worried and how she handles her feelings, with the help of her mother.
30 activities for social and emotional learning: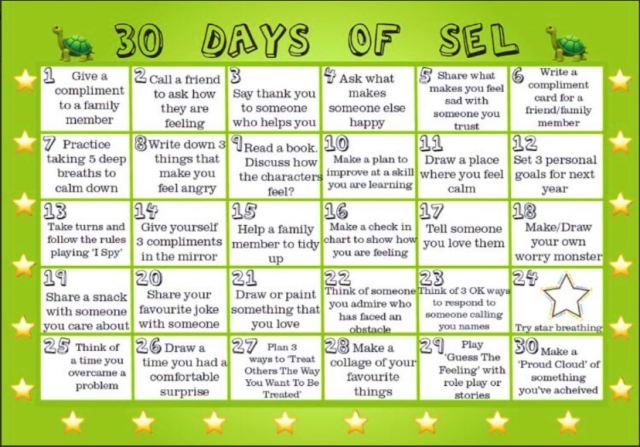 Social and emotional learning outdoor scavenger hunt. Something to try on your daily exercise or in the garden if you have one: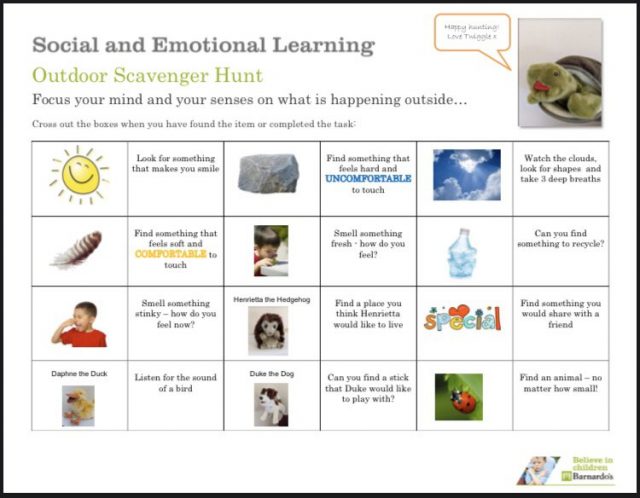 SEND Information Report for Queen's Hill School 2019-20
Part of the Norfolk Local Offer for Learners with SEND
If you have any specific SEND questions please contact our Inclusion Leader, Miss Butcher by phoning 01603 746857 or emailing office@queenshill.norfolk.sch.uk
Please click on the link below to view the SEND report for Queen's Hill Primary.
Norfolk SEND Local Offer
Please click on the link below for the Norfolk County Council Local Offer and Newsletter.
SEND Local Newsletters
Please click on the links below.
Equality and Accessibility