After school club – Chapel Break 
If you require after school care details below.
After School Club at Chapel Break £8.00 per session.
Opens daily during school term time from 3.00pm to 6.00pm & includes snack & collection from adjoining schools.
£12.20 per session includes transport from schools such as Bawburgh, Clover Hill, Costessey Juniors, Queen's Hill, St Peter's & St. Augustine's.
https://www.chapelbreakclubs.co.uk/info/
Costessey Community Fridge
Each year in the UK we throw away nearly 15 million tonnes of food and drink. Nearly half of this is perfectly good to eat! Our Community Fridge enables businesses and individuals to waste less through the sharing of good quality food that's within its use-by date. 
Community Litter Pick
Since 2014 our school  has got involved with South Norfolk Litter Pick around our community, with the help of the local community, over the last 3 years we have collected around 40 bags of rubbish. We feel it is important to keep our community clean and tidy!!  This is organised  each year by Mrs White and our local District Councillor Sharon Blundell.
Big South Norfolk Litter Pick 2017
South Norfolk is a great place to live and we want to make it even better.
Each spring, we work with communities and community groups to help reduce litter in South Norfolk by asking them to take part in the Big Litter Pick. This initiative encourages communities to work together to keep their villages or towns clean and tidy.
In the 2016 Big Litter Pick initiative, 82 litter picks took place with over 900 volunteers involved.
A big thank you to
  

Longwater
 for your ongoing support and your donations which have really made a difference.
The Great Place to Work Group at Sainsbury's Longwater work in partnership with our school to provide opportunities for our children, both within our school and at their store. The Group recognise the importance of working within their community and meet regularly with the school to identify ways in which their colleagues can volunteer their time.
Helen Wells said "We love working with the children of Queen's Hill Primary School who are always so enthusiastic and polite. Our Great Place to Work Group particularly enjoyed helping the children to prepare their raised beds for planting earlier this year and are looking forward to visiting a group of Key Stage 1 and Key Stage 2 children nearer to Christmas with some secret Santa gifts for the children to enjoy."
Mike Green – Manager of Sainsbury's Longwater said "we enjoy our partnership with Queen's Hill Primary School and we value our ability to make a difference in our local community"
 Thank you for all the donations for the Harvest Festival that were given to the Foodbank.  Certificate below showing how much we have kindly donated.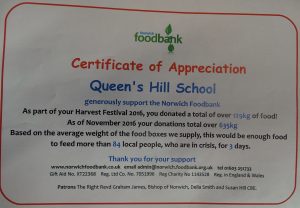 PARENTS/CARERS FEEDBACK FROM OUR SUMMER EVENTS:
"It's been great having Terrific Tuesdays, loved meeting friends and children can play together."
"Lovely friendly helpers who are excellent with the kids.  Great to meet people and children to socialise with each other."
"Loved having Terrific Tuesdays, lots of fun for the kids and the helpers are very helpful and friendly."
"Lovely morning.  Mums get to chat and kids love to play.  Really nice food as well."
"Really enjoyed these mornings.  Loved the social aspect and great activities for the children. – Thank you."
"Really enjoyed the Tuesday mornings.  The kids had fun and it was a friendly relaxed atmosphere.  The UEA Ambassadors were all lovely and great with the kids.  Will definitely come again if put on next summer."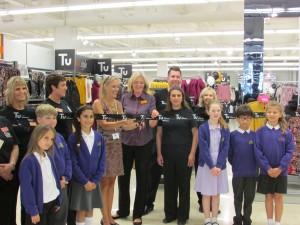 Opening of the new Tu Autumn/Winter 2014 Collection by Mrs Sheppard and children of Queen's Hill.
Rainbows & Brownies Every Monday night 18:00 to 19:30
Further information please call:
Mrs Sue Rivett 01603 747733 costesseyguides@yahoo.co.uk