06/02/17
On Monday 23 rd January to Saturday 28 th January Queen's Hill Primary had an online Mangahigh competition (Fai-To) against European Azerbaijan School, Azerbaijan.
Fai-To is Japanese for encouragement, or fighting spirit.  In Japan, members of a team will chant "Fai-To" before entering a competition.
Year 3 to 6 children took part during school lunchtime, in the afternoon and at home.
We had the defender advantage for the first round, lost round 2 and 3, but then we won rounds 4, 5, 6 and 7.
We won the Fai-To competition! We remain unbeaten after six Fai-To challenges!

18/11/16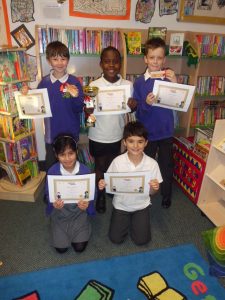 On 16th November 2016 the KS2 children of Queen's Hill beat Kellett Preparatory School, Hong Kong, in an online Mangahigh competition or 'Fai-To'. Well done, especially to the round Heroes-Callum B, Tadiwa K, Alisha M, Theo V and Luke B.
05/05/16
Manga High Eggstreme Easter Challenge winners. Well Done.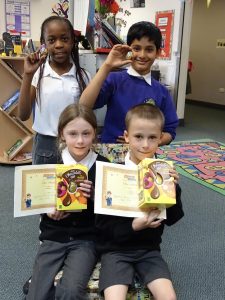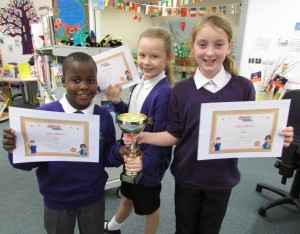 In the week beginning 23rd November our school competed in an on-line Maths Competition against Ysgol Bryn Clwyd Primary School for "The Soft Drink Helix Cup Trophy". Queen's Hill won the trophy and earned 148 on-line points. We won all four rounds! 
As the defending team we had a round 1 advantage. 
The following Round Heroes were-
Round 2-Cali-Jo
Round 3- Eva
Round 4-Tadiwa
Round 5- Cali-Jo
Congratulations to the winners of the Year four, five and six Manga High Summer Challenge
Gold Medal Award- Lexie Chirimunjiri Year 5
Silver Medal Award– Callum Blundell Year 5
Bronze Medal Awards– Isabel Girling Year 5 & Cerys Emeerith-Burley Year 4
And to the next ten runners up who earned a Manga High Achievement Certificate Award-
Amanda Jakaj Year 5, Luke Jakaj Year 4, Daniel Miller Year 6, Louis  May Year 6, Mattie Newson Year 4, Tadiwa Kaguda     Year 4, Nevan VarvadekarYear 5, Hannah May Year 4, Mateus Krukowski Year 4, Bethany Jolly Year 6
Well done to all of you for your hard work!