Actively passionate about sport.
Golden Mile Training 
27/02/17
Below is a link to the Golden Mile newsletter.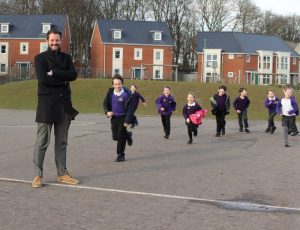 Quote from the newsletter:
'Over the last few years, Premier Sport have helped us track the fitness of the children using the Golden Miles baseline measurements. This is a fantastic tool that allows school leaders to see the fitness levels of particular year groups and gender groups, thus allowing for targeted intervention.' Mr Roughsedge
23/11/15
Today the children were set the challenge, to see how many times they can run around the playground in a specified time.
13/11/15
Playground buddies having training in the Library on the Golden Mile, a new sports initiative starting soon.