Information, Advice and Support to Keep Children Safe Online
Click on the link below for some great advice and support for parents on keeping safe online.
https://www.internetmatters.org
Online Safety Newsletter
Online Safety Newsletter July 2022
Online Safety Newsletter – May 2022
February 2021
E-Safety Online – Parents/Carers and Staff had an online presentation on online safety.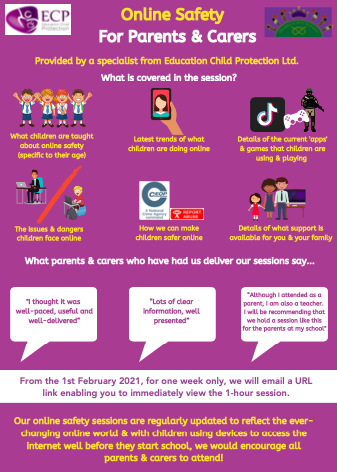 March 2019
Thank you to those parents who were able to join us at our recent online safety workshop. You can now copies of the presentation online.
Online safety for parents 2019
At Queen's Hill School we all wish for our children and staff to embrace the future world.  In this world we all need to be proficient in the use of ICT in our lives and work.  It is essential that we prepare our community for this by giving them the skills and knowledge to go forward safely but with confidence.
We ensure that safety is discretely taught and dealt with as necessary through the curriculum throughout the school.
Our Internet Guidance policy is detailed below please see link below.
 These two websites below are useful for families in guiding use of ICT in the home.
22/02/17
All children in Years 2-6 attended a workshop today by Kidscape explaining the importance of E-safety, during our Safety Awareness Day
14/03/16
Children and Parent E-safety Wokshop
Please find on the link below the presentation given on Monday 14th March 2016.