Queen's Hill Community Tennis Club
If you would like more information or book the courts after school please contact the office on 01603 746857 or email office@queenshill.norfolk.sch.uk.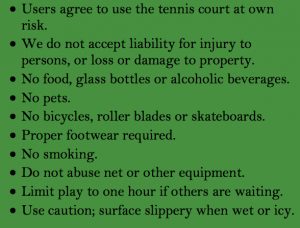 Actively passionate about sport.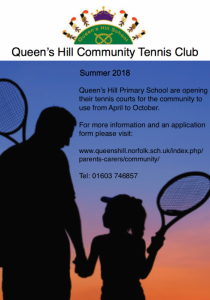 TENNIS COURT RULES
As the tennis courts are part of the school and within the school grounds the following responsibilities must be adhered to, failure to comply with these conditions will result in your membership being revoked.
Memberships will be granted on completion of the application form and relevant fee handed into the school office. You will then be issued with a 4 digit number for the key box, this will give you access to courts. (This code will be changed at regular intervals and will need to be looked after like any other pin number).
Security is of great concern as the facilities are within the school grounds, therefore security of the keys and code are paramount.

The courts are to be used as a first come first play basis (No bookings taken).

Tennis is the only game to be played on the courts within the MUGA.

Be courteous to surrounding households when arriving, playing and leaving.

No chewing gum anywhere on the school site.

Bikes are to remain outside the court area at all times.

Please use the bins provided.

If all courts are full and other members are waiting, please limit your game to one hour.

This facility is to be used at your own risk, the school can not be held responsible for loss, damage, theft or injury.

Please leave all areas as you would expect to find them.

Last people to leave to put the key back in the key box.