Actively passionate about sport.
4/11/16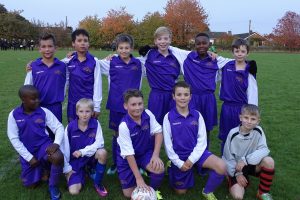 Taverham Jnr V Queen's Hill
Our first fixture of the year saw Queen's Hill Primary face a very strong Taverham Jnr team. This was the first time our team had played together and the first time on grass. After the initial shock of playing on such a big pitch Queen's Hill regained some composure and started to play some lovely football. Robin, Toby and Colin often combining nicely down the right wing to cause Taverham to defend stoutly. The 7-0 score line flattered Taverham who, although deserved winners, were fortunate not to concede at least 1 goal. Callum crossed the ball skilfully to Toby who kicked the ball first time with precision. Quite how the goal keeper saved the shot is a mystery! The score line did not matter today. Whilst winning was the goal and we were disappointed to lose,  our heads did not drop. There was no blame, no giving up. We played our hardest until the final whistle showing lots of grit and determination and played with smiles on our faces throughout.
Below are the details of the next football matches for Queen's Hill.  All welcome.
Thursday 5th March 3.45pm at West Earlham
14/10 3.45 K.O. Taverham Junior vs Queen's Hill  9v9 league game.
Result 2 -1
Heavy rain had threatened to cancel the game but the sun was shining as Queen's Hill Primary took on Taverham Junior school with a great travelling support from the Queen's Hill parents. Having lost heavily the previous week and missing key personnel today, the team needed to muster character and determination to rise to the challenge of playing a strong Taverham team who had won their previous game.

Queen's Hill started brightly and played some lovely football. Clearly our players had benefitted from practicing hard on a full size pitch all week. James and Layton played quick 2 touch football in midfield, always looking to release Denzel early. Queen's Hill dominated the play in the opening stages and were extremely unfortunate to concede a goal against the run of play.

Daniel was a wizard in midfield and played some dazzling passes to release the pace of Denzel who was unfortunate not to score on a number of occasions. Queen's Hill's eagerness to score however left us vulnerable in defence and Taverham started to mount pressure in the lead up to half time. Inevitably this lead to a 2nd goal for Taverham who went  in at half time with a 2-0 lead.

The half time team talk message from Mr Fraser was clear and simple, "Win the second half boys!"

The second half was  fiercely contested with plenty of chances for both teams. Finn made some superb saves to keep Taverham at bay. Queen's Hill were more disciplined this week in defence and our players stuck to their roles with responsibility. The midfield battled hard to gain possession and create chances. Eventually the ball was played in to Daniel from the left hand side, he controlled the ball well and struck an unstoppable shot back across the goal into the bottom corner.

The final score was 2-1 to Taverham, but just as Mr Fraser had instructed, Queen's Hill won the second half! A fantastic game played in good spirit by both teams. We look forward to next week when we play Avenues.
07/10 3.45 KO. Colman Junior School  vs Queen's Hill  9v9 league game.
Result  8 – 1

Our first ever league match in the history of Queen's Hill Primary took place away at Colman Junior school. Fresh off the back of a victory in their first game, we knew Colman Junior would be a tricky prospect. We had a strong squad of 14 players which included 6 players from Year 5. In the purple and white strip of Queen's Hill our players looked the part! Finn Breame, captain of the team, won the toss and chose to take kick off. The early stages of the game saw Queen's Hill play some neat football on the deck. Our passing was crisp and the team had clearly listened to Mr Fraser's advice of 2 and 3 touch football. However, the midfield of Colman Junior were strong and were quick to intercept the intricate passing from Queen's Hill. A strong opposition defence limited Queen's Hill to a handful of chances. Colman Junior dominated possession for the majority of the first half which saw them take a comfortable 4-0 lead at the break.

The second half started brightly with Layton, Jayden and Denzel linking up well. Layton covered every blade of grass on the pitch, he did not stop running and he pulled the strings in midfield. The Colman Junior defence could do little but watch the quick feet of Jayden and the pace of Denzel, who now started to create more and more chances. As the game went on, the Queen's Hill team grew in confidence. Denzel made a run down the left wing beating two players. A clever ball in to Jayden's feet was controlled well and finished in style. The Queen's Hill midfield and defence battled hard and showed passion and commitment. Unfortunately for Queen's Hill, Colman Junior proved too good on the day and the final result was 8-1.

Our next match is away at Taverham. Despite a defeat and a heavy score line, there was a lot to be positive about for Queen's Hill and we look forward to the next challenge.