The School Day
| | |
| --- | --- |
| 7.45-8.30am | Breakfast Club – £2.00 per child |
| 8.30-8.40am | Children may arrive and go to their classroom |
| 8.40-8.50am | Registration & Lessons begin |
| 11.40-12.40pm | Lunch – Reception |
| 12.00-1.00pm | Lunch – KS1 and KS2 |
| 12.40/1.00pm | Afternoon Registration & Lessons begin |
| 3.00pm | End of school day |
Please see below the term dates for 2019/20.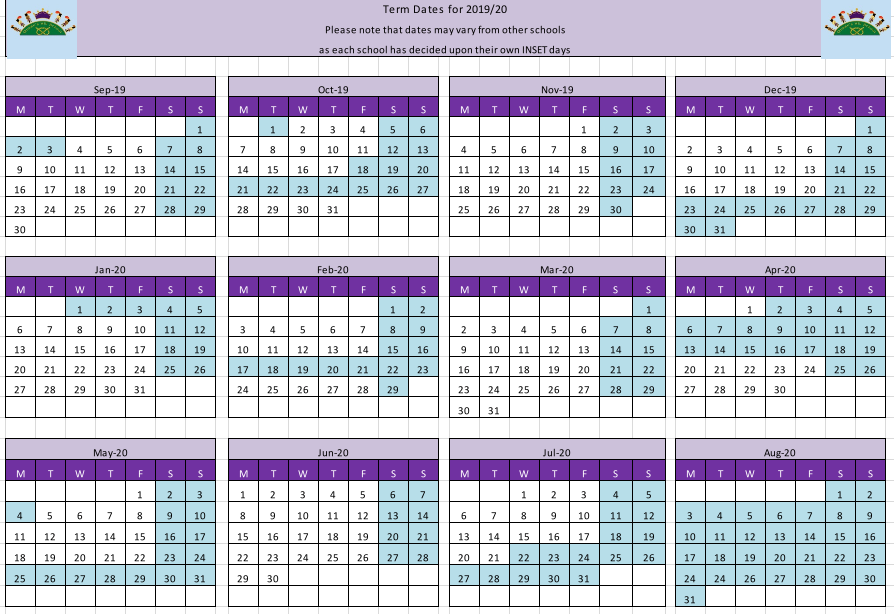 You will find lots of information in our School Prospectus.  A link is below, if you require a paper copy please just ask at the main office.
Absences
If your child is ill or unable to attend school for any reason please telephone the school on the first day of absence to let us know, there is an absence option on the answer phone to make this an easy process. If we do not hear from you we will mark the absence as unknown and you will need to confirm to us in writing the reason for absence on their return to school. If you wish to take your child out of school during term-time you need to request a Pupil Leave of Absence form from the Office. Please note: All holidays during term-time will be marked as unauthorised unless there are exceptional circumstances. Please see attached links below for further information.
Breakfast Club
Please pay for Breakfast Club sessions in advance on a Monday as this helps us with our administration in the Office.   Some parents pay by cheque on a half-termly basis.  If you would like to do this, please ask at the Office.
Dinners
Reception/Year 1 /Year 2
All children in Reception/Year & Year 2 are entitled to a Universal Free School Meal.
Years 3/4/5/6
Children in Years 3/4/5/6 can purchase a hot dinner at £2.20 per meal.  Payment can be made daily, weekly or half termly, but must be in ADVANCE not arrears.    If you are in receipt of specific benefits you may be entitled to Free School Meals, please collect a form from the Office to apply. Please click on the link below to see a copy of the current menu.
For information on special diets and allergens please see Norse website link below.
http://norsecatering.co.uk/primary-school-catering/
After School Clubs
They take place each day after school click below for the timetable which changes every term.
If you would like your child to attend a club you must complete the After School Club Permission Form giving parental permission.  If the club has no longer any spaces available we will notify you.
School Trips
After discussing with parents at Parent Forum, Queen's Hill Primary School & Nursery offer a "Passport of Entitlement!"
This 'passport' maps out what each child can expect to receive, in addition to their classroom education. This 'passport' helps parents to budget for trips and events. Please click on the link below to open.
School Travel Plan
The Queen's Hill Primary School travel plan is on the link below, which explains the different options to travel to our school.