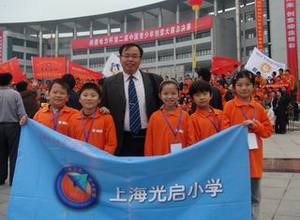 Click here to visit our sister school Shanghai Guangqi Primary School
Guangqi Primary School Introduction
Guangqi Primary School was named after Mr. Guangqi Xu, a Ming dynasty scientist. It was founded in 1873, now known as one of Xuhui's public schools with the longest history. There are currently 41 teachers and 368 students in all.
Guangqi Primary School is one of Shanghai's leading schools specializing in science and technology education and "Odyssey of the mind" program. Through the OM program, our students learn creative problem-solving methods while having fun in the process. In 2005 and 2007, Guangqi Primary School represented China at OM's World Finals held in the United States. The team has won second-place and third-place respectively, demonstrating its capability and unique feature.
Guangqi Primary School is also Shanghai's leading school characterized by sports education. It has cooperated with East-Asia Diving Club for a long time, training many outstanding diving athletes, such as Minxia Wu, Liang Huo. In September 2008, an activity named "Return home, Olympic Champions" was successfully held in the school, which was really heart-warming and inspiring.
Guangqi Primary School will constantly carry out educational programs on science and technology in order to foster the students' all-round development and to build up the distinctive school image in Xuhui District as well as Shanghai.
Our Head Teacher Mrs Penny Sheppard has been lucky enough to be offered the opportunity to travel to China to forge links with Guangqi Primary School.
I had a fantastic visit to Shanghai and have made links with a primary school in the Xuhui district. They are very keen for us to work together and we are hoping to deliver a joint curriculum project in the near future. Having the opportunity to learn about another culture is always fascinating and I felt privileged to be able to observe lessons and have professional dialogue with their Head Teacher. Although there are similarities there are also very many differences – some of these are to do with the way the schools are funded and some to do with society generally. What shone through in Guangqi Primary School was the way the children were so focussed on their learning and the respect that the children and the parents/grandparents had for education culminating in very well behaved children! It also made us appreciate what superb facilities we have here at Queen's Hill – something it is easy to take for granted.
The Chinese educators were intrigued with Nounours (our travelling bear). Nounours really enjoyed his first visit away. He tried lots of different types of food (including jelly fish) and became very proficient at using chopsticks. He joined in with lessons in design technology and thought the singing was great. Nounours particularly enjoyed the exercises all the children did first thing in the morning and is keen to have a go here at Queen's Hill!
The children produced a DVD for me to take about life at our school and they have a number of questions that they wanted to find the answers to. A lot of them were keen to come along to China with me! Perhaps not quite the same, but we hope to twin some classes and make use of webcams etc.
Here are some photos taken during my visit.
Shanghai Mathematics Teacher Exchange Project
Last month I was lucky enough to spend two weeks in Shanghai, China learning about mathematics teaching and learning in my role as a Mastery Specialist Teacher with the Norfolk and Suffolk Maths Hub. The first week was spent at The Primary School attached to Shanghai no.1 Normal School, a large urban school with 1500 pupils. Pupils have 35 minute maths lessons daily and daily maths homework (as well as other subjects) which they complete at home with their parents. Then after a weekend filled with lectures and sightseeing, I was based for the second week at The Minhang Experimental Primary School- a school with 6000 pupils split over four campuses and growing. As the biggest school in Shanghai, it is used as a model school in the city and has 499 teachers (75 of which specialise in maths teaching). Here I observed maths teaching and had the opportunity to teach a Grade 4 (Year 5) class as well, which was a daunting experience but one which I learnt a lot from, receiving feedback from the many teachers who came to watch me!
During my visit, I was partnered with one maths teacher from each school. Both of these teachers will be visiting England and coming to teach at Queen's Hill Primary School for two weeks in January as part of the project. This is something which they are really looking forward to! During these weeks, the specialist teachers will share their expertise with teachers in our school and those from across Norfolk and Suffolk. As a school we are incredibly lucky to have been selected to host these teachers for Norfolk and Suffolk and I'm certain that the experience will be invaluable for the teachers and children in our school.
Miss Kerrison