Look in the main entrance for the Fizzlewizz Writing Cabinet for examples of some amazing writing that the children have produced.
Below are some great Writing home sheets, so you can see what is expected from each year group.
English writing handouts year 1
English writing handouts year 2
English writing handouts years 3 and 4
English writing handouts year 5
English writing handouts year 6
Year 4/5 did some fantastic big writing in class this term.  One child from each Year 4/5 class got the opportunity of sharing their work with a John Lewis member of staff, and receiving a John Lewis Space gift.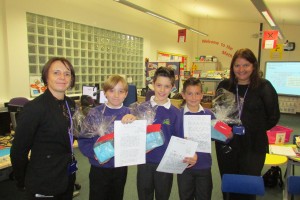 Author's chairs have arrived and the children are eagerly writing, so they get the chance to sit on the author's chair in their classroom.
Below is are examples of what is expected from children in these year groups.  They also show examples of independent writing, writing across the curriculum and children editing and up-levelling their work.
How much should we be writing in each session?
Year 1 -A paragraph of developed ideas.
Year 2 – Close to a page of writing.
Year 3 – At least one side of A4 paper.
Year 4 – At least a page and a half of A4 paper.
Year 5 and 6 – Two sides of A4 paper.