Enjoy looking at our creative learning log.
28/06/17
Year 5 have been reading the amazing story 'Chitty Chitty Bang Bang' and this has influenced a lot of their Writing work over the past few weeks. The children have been inspired in Writing, PE and Design Technology by this wonderful book. For Design Technology, children are getting ready to design and make their own version of Chitty Chitty Bang Bang that can either fly or float. To help them with their inspiration, Miss Bellison organised for Mr Bellison (her dad) to bring in his car which he finished building in 2009. All the children loved the car and asked lots of interesting and imaginative questions. The children were amazed that he managed to build his 1967 MG and are looking forward to seeing pictures of his current project, a Jaguar D-Type. 
9/06/17
On Thursday 8th June, we (Year 5's) visited the polling station to vote for our most wanted political party! We discussed democracy and what happens in parliament. Then we looked at the different manifestos for each political party, this supported us to make our own decision. We were given a ballot paper and voting card, marked our political party with a clear 'x' and were given the results at the end of the day! 
24/03/17
Below is an image of the microscopes used on the iPads during science lessons, as requested by parents who attended Y5 show and share.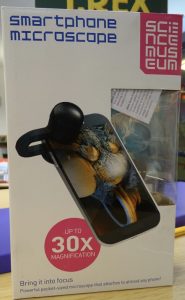 28/02/17
Dance East are working with some children in year 5 for three weeks. They will be showcasing their dance at OVA. 
11/02/17
School Pet Blog
On Wednesday 1st February both Year 5 classes got Dwarf Hamsters. In Mrs Walden's class the children got two hamsters. We had a vote out of Albert and Einstein or Isaac and Newton. The children decided on Albert and Einstein (8 votes for Isaac and Newton and 11 for Albert and Einstein). So Mrs Walden's class pets are called Albert and Einstein. On the other hand, Mrs Bellison's class have 1 Dwarf hamster called Buzz. (it's a Russian dwarf Hamster). In Reception they have a Rabbit called Dizzy. In Y4 they have 3 fish which don't have any names as far as we know, also the fish are in Miss Kerrison's class; " My sister Mabel has fish in her class she really likes feeding them and watching them swim around." Says Betty. In Miss Mason's class they have a beaded dragon called Sparky "my sister is in this class and she says he is a very funny Beaded dragon." says Mia F. The dogs are called Molly, Jasper and Seb. Molly comes into Mrs Walden's class about once a week but now we have hamsters she doesn't come in as much. "Molly is a wonderful school dog to have. She loves some attention and her belly rubbed." Says Mia H. Jasper spends most time in Y6 with Jack S.    
By  Bloggers Mia H, Betty and Mia F.
10/02/17
Children have been celebrating and admiring other children's home learning from the past half term. Children made AMAZING efforts (along with their parents and carers). The children displayed their work in the classroom and the children rotated round looking in awe of each others work. They also had the option to write a compliment on a post-it it note and place it onto the homework if they wanted to. Thank you to all children, parents and carers for your great efforts.
06/01/17
Last week, in Year 5, we completed research about the life of Sir Isaac Newton. This later fed into our writing where we created a biography about his life and major accomplishments (a biography gives information about someones life – not your own).
Here are some facts about Isaac Newton:
– he discovered gravity (an apple falling off a tree got him thinking!)
– he discovered that white light is made up of many different colours
– he invented the reflecting telescope (a telescope with two lenses – this creates a better focus)
– he created the 3 laws of motion (ask some of the year 5's if you would like to know more)
– he created a new type of Math called Calculus
– he lived until the age of 84 (4.01.1643-31.03.1727)
– his mother wanted him to be a farmer but instead he studied law and then found a passion for Science
– his father died 3 months before he was born (his father was also called Isaac Newton)
– he lived with his grandparents from the age of 3 after his mother re-married
– he is one of the most famous scientists
29/01/17
Molly has really enjoyed being in our class in the morning while we do our learning.
27/01/17
On the 26th January Year 5 had a maths café.
We have to tesselate 2d shapes to make our own rangoli patterns. We used chalk and powdered paint to add colour.
As this was a maths café we needed to do some maths, so we did a times tables kahoot  which tested our times tables. during the maths café all the people who attended were given various choices of food (crisps, brownies and wonderful chocolate chip cookies.)
By Y5 Bloggers
26/01/17
In Les Ecureuils, we have been learning about Hinduism. We also learnt about the Holi Festival and created a film clip to share at our Show and Share assembly with Y5 parents and children. In Science, we made an eruption! All the chemicals mixed together created a large amount of orange foam. It felt so soft!
Mia and Alex
21/01/17
By Betty and Mia
In year 5 on the 20th Friday January 2017 we did a show and share assembly, about Hinduism and the Holi festival! Everyone is year 5 and the whole school loved it. Here is a quote from Mabel " It was AMAZING I loved the Queen's Hill news and the Viking trailer clip!!" in the assembly children read out Haiku poems, Kennings and cinquain poems. Jasmine was lucky enough to read her non-chronological report about the Holi festival.
We also did some art work on Hindu temples. We first made our back round using sponges and colourful paint. The paints represent the powder paint from the Holi festival.
Viking trailer;
We would like to share with you our Viking film trailer. We created this last term to link with our Viking topic. We designed our own shields and swords and then created our own battle and this was the basis for our writing. Please sit back and enjoy!
VIKING TRAILER COMING SOON
Holi Festival News Clip;
Our topic this term is Hinduism and we have been linking this with Writing, Art and Computing. Hinduism began in India thousands of years ago. Hindus believe in one god who has many forms. They are called Gods and goddesses. During the last two weeks, we have been focusing on the Holi Festival which is a festival celebrated by Hindu's. The Holi Festival is also known as the festival of colour. We decided to recreate the Holi Festival. 
21/11/16
Year 5 have been creating mnemonics to help spell the jumping orange word, and word of the week, 'disastrous'. Y5 looked at examples of mnemonics for the word 'because' (big elephants can only understand small elephants) and 'difficulty' (Mrs D, Mrs I, Mrs FFI, Mrs C, Mrs U, Mrs LTY) and these supported the children in creating their own.
11/11/16
On Thursday (10th November), Year 5 held a code-breaking cafe for Year 5 pupils and parents. It linked with the Year 5 history topic, Vikings, and the school focus for the half term (spellings). There was a good turn out and some children brought their parents and their siblings! Everyone listened to the short story 'How to be a Viking' by Cressida Cowell – this is a book that Year 5 have been studying and working with in Writing. Finally, parents and children had to work out words written in Viking Runes – some Viking Runes stood for more than one letter and everyone had to be extra careful that they spelt everything correctly. Some managed to complete their code-breaking activity and started to construct a Viking Longship (some were more successful than others!). 
Thank you to all those that attended the cafe, we look forward to seeing you next time!
Also, a massive WELL DONE to all those children who have been reading 4 times a week since the start of the school year and have achieved bronze on the reading stars… Super work!
26/09/16
Task One
Our task was to complete a shopping list for the castle pictured on the task card. We built the castle and discovered that it was built using 16 square Polydron pieces and 8 triangle Polydron pieces. I liked the maths café because we got to make a castle which included maths and I love maths. We had to look at the picture properly to see how to build it and think about what the sides and the back looked like. It was a hard job, mainly because we had run out of square pieces, but we did it.
Mateus and Raivis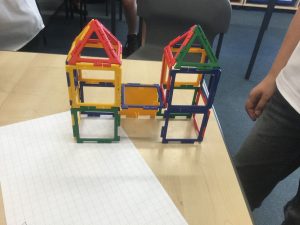 Task Two
Our task was to make a castle using only twenty-four square Polydron pieces. The main challenge was it was a bit of a pain to put together as it kept breaking! Apart from that it was pretty straight forward occasionally we had to do some little changes but we got there in the end.
Finlay and Tommy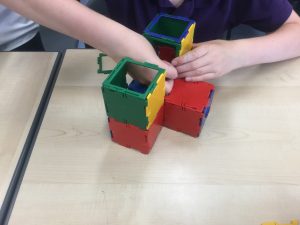 Task Three
During our Creative Castle Café, our team completed task 3. In our team we had Sophie, Paige and Paige's mum and younger brother. We had to show all the net combinations for a cube. As soon as we had completed the second net, we thought there were no other combinations but Sophie remembered from her old school that there were 11 combinations in total. We continued to work hard together to try and work them all out. We managed to find 10 combinations. See them below.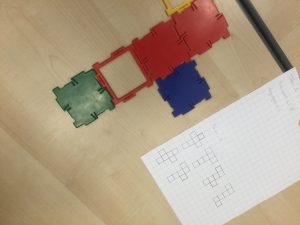 Sophie and Paige
Task Four
During the Creative Castle Café we completed all four tasks with the support of our families. The first task we completed was a shopping list for a castle pictured on the task card. The second was a castle made with 24 square Polydron pieces. Then we decided to do task 3, the challenge was that we had to build five turrets for a castle. Building the turrets was a little difficult because the triangle Polydron were hard to clip into place. We then attempted to find all the possible nets for a cube. One team had managed to get 10 so we were trying to beat them!
Mia  and Cali-Jo