Enjoy reading about our creative learning blog.
07/07/17
Today was our Year 6 Graduation Assembly.  Good luck to you all in your new high schools.
06/07/17
Year 6 today in the rain, had their annual water fight.  As you can see they had a great time and managed to soak Mr Jones.
08/06/17
Below is a link where the Year 6 School Ambassadors talk about the new extension in 2017.
19/05/17
Eaton Vale Residential Trip
18/05/17
For more information on moving up to secondary school please click on the link below:
https://csapps.norfolk.gov.uk/csshared/ecourier2/fileoutput.asp?id=17183
21/03/17
The Ambassadors enjoyed having their photo taken with the Aspiration Tree.
See link below for the news article.
http://www.edp24.co.uk/news/education/special_tree_legacy_celebrates_4_1m_costessey_school_expansion_1_4950119
23/02/17
This week we have come back from the holidays. We finally got our beach buggy's to move . Mine was really hard because all sorts of things went wrong. For starters the wheels went all wonky. Some of the batteries did not work and one of our classmates battery's started smoking. This has been a good learning experience for all the Y6's. I have loved this experience and on Thursday we will be racing them with each other.
By #LHY6BLOGGERS
(Lexie and Holly)
14/02/17
We have created some wonderful printed kites with expressive poetry written on them at the end of spring first half-term 2017. A sample of the kites are up on display in the corridor outside Mrs White's classroom if you would like to see them in more detail. We enjoyed flying them as much as making them!
07/02/17
This week we have done DT. In this we have been starting to make electric beach buggies. We first started by designing our beach buggies then we started cutting and sawing the wood, under the supervision of Mr Jones. We also started gluing the base together with the glue gun.  Soon we will be placing the wires batteries, wheels and more. We can't wait to see it will turn out.
#LHY6bloggers
( Lexie and Holly )
02/02/17
Year 6 held yet another successful and well attended maths cafe on Thursday 2nd February, where problem solving was the focus. The gnomes had all of their homes destroyed in an earthquake and the children's task was to try and rebuild them. Finding all twelve gnome home designs was only the beginning, as they went on to calculate building and painting costs too. Tea, coffee and biscuits kept us all going until the end of a really good session of mathematics. If you weren't able to attend this one, then try and get to our next parent cafe on: Thursday 23rd March from 3-4pm. The activity we did is below so that you can have a go at it at home with your child if you wish.
Gnomes Homes Maths Cafe Activity
23/01/16
This week we have been doing some art work by Vincent Van Gogh. We were painting Starry Night. In this we were using a special technique called double loading. Where you put two colours on a brush at the same time. We were learning that Vincent painted happy pictures when he was happy and sad and dark when he is sad, depressed or angry.
By #LHY6bloggers
11/01/17
George Fouche motivational workshop.
George talked to us about his life. He was born in South Africa and his dad used to abuse him although he still carried on with his dream. He told us that he was a brilliant rugby player and not long ago, in a rugby match he snapped his neck but said it was nobody's fault. He was paralyzed from the shock and pain of the accident! He has four lovely children, fifteen horses, three dogs, a few goats and a micro pig. His favourite animal is his goats. Sometimes he would walk his horses while his sons and his daughter were riding on top. He also worked as a coach at some rugby matches. His family is very tall but he is the shortest of them at only 5.9 foot. At the end of his assembly he talked to just the year sixes about abilities such as concentration and what they can achieve. He helped us write about our dreams and hopes of what we would like to do and be in the near future. We all enjoyed George's assembly – it was a lot of fun and taught us loads. He is a very funny man.   
By Maddy and Paige
15/12/16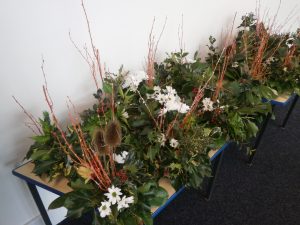 We are very proud of our table decorations and look forward to serving our parents tonight.
24/11/16
Thank you to all of the parents who joined us for a lesson at 'Spy School' today. We started our reading café with an extract from Stormbreaker and found out about the gadgets Alex had to take with him on his special mission. This inspired us to make our own spy gadget – a periscope (which also links in with our Science topic about light). We created our periscopes using card and CDs and then decorated them with our own unique designs. We were impressed by the creative group names e.g. 'The Spyse Girls' and by the secret codes which adorned them.
22/11/16
We enjoy being set a challenge at Queen's Hill Primary School. After PE today the children in Year 6 filmed the 'Mannequin Challenge' click on the video link below to see the results.
Video Link: Mannequin Challenge
22/11/16
As some people already know, some year six pupils went on a sport's trip to play tag rugby. Leaving in a good sprit, we had grit and determination that we would do our best while playing. We left the school at about 09:30 and we shared a bus with a school called St Augustine's. Our tournament was in Little Melton. We played against lots of different types of schools around Norfolk . Each school was part of a category – either big schools or small schools (a big school has 120 children or more.)
We had lots of fun playing and although we didn't win we had a great time doing something we love!
A big well done to: Lexie, Izzy, Amanda, Callum O, Callum B, Toby, Adam, Daniel, Josh, Jake, Loysio, Jack S
By Izzy and Lexie
15/11/16
This week year 6 were experimenting with light and trying to demonstrate that it only travels in straight lines. Using simply card, bulldog clips, Blu-Tac and a torch they carefully lined up the holes to enable the light to travel straight through. We enjoyed being spies setting up laser traps for this lesson and look forward to playing around with shadows and mirrors in the future. It would be great to hear that they had followed up this learning at home. Send any photos you have of doing this to the school email address. office@queenshill.norfolk.sch.uk
11/11/16
Last half term we wrote some short stories about Tom and Emma – 2 children who have adventures in the Norwich 11 buildings. Our writing was inspired by the author Saul Penfold and we all went on a trip with him in the summer term. On Tuesday 8th November Saul returned to school to give us some feedback about our writing – he was very impressed! We are hoping to see some of our stories in print very soon.
31/10/16
Congratulations to Alicja who has won our last art competition.  Her winning design for an imaginary, dream room will be turned into a 3D model, with the help of a local artist.  It will be displayed at the Castle Museum and may be selected to be on show at the Victoria and Albert Museum in London!  You can see her design on a display along the Key Stage 2 corridor.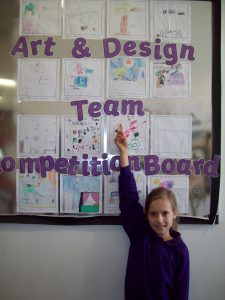 19/10/16
We had a great time at the Goosebumps night in the OVA Library, thank you to everyone at the OVA who organised the activities. Who knew a library could be so much fun.
10/10/16
Click on the link below to see Joe's blog post.
Page 1 Joe's blog      Page 2 Joe's blog
YEAR 6 TRIP TO THE SAINSBURY`S VISUAL ART CENTRE
Last week, year six went to the Sainsbury`s art centre on a trip to see African art as this week we are going to be starting to learn about African culture, the slave trade and much more! We got there on a Norse coach. It took roughly 20 minutes to get there. Once we had got there we went to the actual centre to get our tour guide. After that we went to a super cool underground bit. We put our stuff on the pegs and then sat on the carpet. We then got into class groups and followed our tour guides into the gallery then Mrs Whites class went in a different direction in the gallery and Mr Jones`s class went up to the top floor and saw how the gallery is connected to the UEA. After the tour we all went back to the underground room to have our snack. After snack MrJones and his class went to do some mud painting, while Mrs. White's class went to do some sketches of the African artwork. At lunch we went back to the room and had our lunch. Once we had our lunch Mr Jones and his class went up to the gallery to do some sketching and Mrs White's Class did some mud art. We got some pupils to write their opinions ''It was a great experience and the sculptures were amazingly carved I, Amanda, also loved the workshop'' quoted Amanda.
by Holly
29.09.16.
Year 6 Castle Cafe.
Year 6 held their first parent cafe of the year this week, hosting a castle building mathematical event. The task was to use Polydron to build a variety of different 3D castle models and complete the mathematical challenges on the cards. Tea, coffee and plenty of pink wafers kept everyone going until four O'Clock. Lots of problem-solving fun, linked to our current whole school focus, was had by all. If you weren't able to make it to this one, feel free to join us at our next parent cafe from 2-3pm on Thursday 24th November.