Enjoy reading about our creative learning Year 6 blog.
26/02/18
Well done to all the children who took part in the Maths Challenge at Taverham Hall Preparatory School.
17/01/18
In Year 6 we have been reading the book 'The Arrival'. This is a picture book without any words and we have been studying some of the images in the book. Through drama and discussion, we have explored the characters in the story. This week we wrote in role as one of the characters who had left his family to work abroad in the hope of a better life. We focused on using emotive language as part of our whole school focus on vocabulary.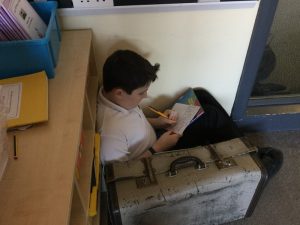 15/01/18
We had a Game designer come in this morning to do a workshop to aspire children.
09/01/18
Today we were lucky enough to take part in a Truck Safe activity session where we learnt all about how to keep ourselves safe when trucks are about.
05/01/18
Today in Year 6 we were lucky enough to have a careers talk from an oil and gas engineer. Mahamoud's children attend Queen's Hill Primary School and he came in to explain to us all about his job. We were able to ask him lots of questions and learnt lots about sources of energy. Thank you Mahamoud!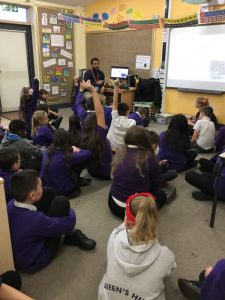 15/12/17
Today Year 6 were lucky enough to take part in a workshop organised by some students taking part in the National Citizen Service as part of their college course studying Level 3 Public Services at Easton College. The students came in to Queen's Hill Primary School to deliver a workshop discussing public services and the children learnt about the army, police, fire and ambulance services. For each workshop, the students spoke briefly about what they do and then the children took part in some activities to do with each public service. Take a look at the photos- we had a brilliant time. Thank you to all of the students who came into our school!
12/12/17
Today Year 6 went to the OVA to watch the school's performance of School of Rock. We had an amazing time and it was great to see some of our old school friends performing. Well done to everybody involved!

01/12/17
On Friday, Year 6 pupils visited The Sainsbury Centre for Visual Arts. Year 6 pupils had a tour around the gallery, participated in a workshop focusing on African art and printing and then had a chance to spend some time developing their sketching skills in the gallery.
25/11/17
Thank you so much to all of the families who attended our writing breakfast. The children loved sharing their work with you and it was great to see so many families working alongside children in the classroom.
We hope to see lots of you next term at our Spring Term writing breakfast!
17/11/17
Today we had a visit in Year 6 from Mrs Walden and baby Isaac. We were so pleased to wish her congratulations and meet Isaac for the first time.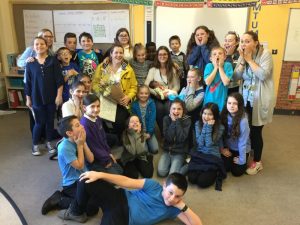 16/11/17
In Year 6 today in English we did some drama activities to develop our understanding about child and parent conflict in Romeo and Juliet. We created a soundscape and provided advice to 'Juliet' about her dilemma.
15/11/17
Thank you to everyone who came along to our Year 6 Spy Café. We had a brilliant time reading some of 'Stormbreaker' by Anthony Horowitz and then made our own periscopes. This linked in really well with our science work as we have been learning about light over the past couple of weeks.
10/11/17
Today the Year 6 class led our whole-school remembrance assembly.  Performance club and the school orchestra also performed as part of the assembly.  Thank you to all of the parents and families who attended the assembly.
07/11/17
Today, Year 6 made poppies ready for the Remembrance Day Service on Friday.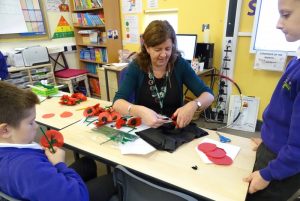 13/10/17
Careers Fair
12/10/17
Today we took the Ambassadors to the Foodbank to deliver your harvest donations.  It was greatly appreciated,  many thanks.
11/10/17
We had an amazing superhero night at Ormiston Victory Academy Library.
09/10/17
Today in Year 6 we have been investigating simple circuits!
02/10/17
Shanghai Mathematics Teacher Exchange Project
Last month I was lucky enough to spend two weeks in Shanghai, China learning about mathematics teaching and learning in my role as a Mastery Specialist Teacher with the Norfolk and Suffolk Maths Hub. The first week was spent at The Primary School attached to Shanghai no.1 Normal School, a large urban school with 1500 pupils. Pupils have 35 minute maths lessons daily and daily maths homework (as well as other subjects) which they complete at home with their parents. Then after a weekend filled with lectures and sightseeing, I was based for the second week at The Minhang Experimental Primary School- a school with 6000 pupils split over four campuses and growing. As the biggest school in Shanghai, it is used as a model school in the city and has 499 teachers (75 of which specialise in maths teaching). Here I observed maths teaching and had the opportunity to teach a Grade 4 (Year 5) class as well, which was a daunting experience but one which I learnt a lot from, receiving feedback from the many teachers who came to watch me!
During my visit, I was partnered with one maths teacher from each school. Both of these teachers will be visiting England and coming to teach at Queen's Hill Primary School for two weeks in January as part of the project. This is something which they are really looking forward to! During these weeks, the specialist teachers will share their expertise with teachers in our school and those from across Norfolk and Suffolk. As a school we are incredibly lucky to have been selected to host these teachers for Norfolk and Suffolk and I'm certain that the experience will be invaluable for the teachers and children in our school.
Miss Kerrison
29/09/17
Y6 Blog
This week we have been learning about Muslims and the Islamic culture. The skills we used were skimming and scanning skills on the computers and books and notes for key information. The topics we researched were: prayers, Zakat, Sawn and Hajj. Prayers are the most important thing a Muslim does. Zakat is when you give away 2.5% of their income. Sawn is where you don't eat until 9.00pm and before sunrise. Finally, hajj is where you go to Mecca and walk 3.5-5 km.
We also had a very calming session with Paddy. Paddy is a life coach and he helps us with our life now and in the future. He spoke to us about fighting and trying to use our words. He put us into a situation and we had to try and win the argument, we were on a plane and the engines fell off. There were only 4 parachutes so we had to make sure our group got them no one else. Paddy told us about his past experience. He said he was a solider in the army. He lived in South Africa then he moved to the UK. He still visits South Africa because some of his family lives there so he visits every year or sometimes visits more than once in a year. We will be working with paddy for 8 months. We all enjoy having Paddy here. So when you're in year 6 or if you already are, you will enjoy him a lot. So good luck!