Enjoy reading our creative learning blog.
06/07/17
Today Year 4 had a workshop with the scientist Natalie Wager from the John Innes Centre in Norwich, they all had a great time hearing about her job and asked LOTS of interesting questions.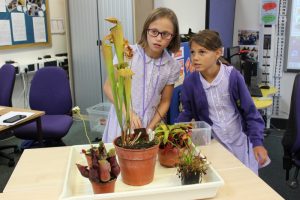 05/07/17
In Year 4 today, we were lucky enough to be visited by some volunteers from the RSPB. We spent time outdoors hunting for mini-beasts and had help to identify our finds!!
30/06/17
Miss Kerrison's class were very excited to find out the results of the MudWatt competition at the Norfolk Show (organised by the UEA). Their class came third in the competition and were very proud of their efforts! 
29/06/17
Years 3 and 4 visited the Royal Norfolk Show last week. After a brisk walk to the show, we all enjoyed walking around the exhibitions and completing the trail for schools.We particularly liked looking at the different animals and had a great time learning about where all of our food comes from. Take a look at some of our photos! 
21/06/17
Below is an image from the UEA for the Mudwatt that we sent with a soil sample from Queen's Hill Primary School.  We are all very excited as it is already producing power and normally takes days.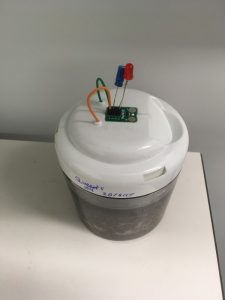 20/06/17
In Year 4 we have been learning about the Holi Festival (also known as 'The Festival of Colours'). Today we used powder paints to create an image that showed movement and we all had to make choices about the vibrant colours that we used.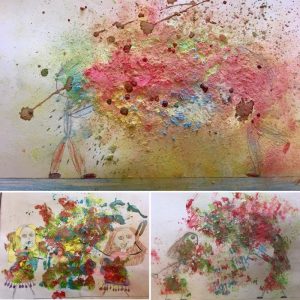 20/06/17
A team of biochemical scientists at the University of East Anglia (UEA) are researching how clean energy may be generated with help from a surprising source – bacteria found in soils and sediments. In the build up to this year's Royal Norfolk Show, the UEA has invited schools to test the power of their soil using a MudWatt! Today we were busy in Year 4 deciding which soil to test. We are looking forward to seeing the results at the Norfolk Show next week!
09/06/17
Year 4 have been learning all about the General Election over the past week in maths. They have learnt about the different political parties and their policies. On Thursday, each child visited our polling station and cast their own vote for the 2017 General Election. They have then spent some time presenting the results using different data handling methods (for example, bar graphs and pictograms).
07/06/17
Year 4 were very excited to receive their polling cards this morning ahead of tomorrow's election! All week we have been learning about the election as part of our statistics unit in maths and will analyse the results of our election after the vote count.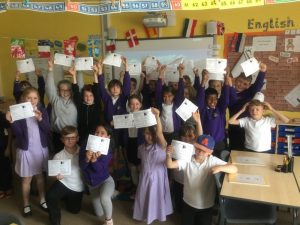 15/05/17
This week in Year 4 we are learning about the Northern Lights. We found out about how these light shows are created in the sky and where they can be seen as part of our work studying the book 'The Atlas of Adventures'. Inspired by this natural phenomenon, we created our own artwork using pastels of a typical night scene. 
03/05/17
Thank you so much to everyone who came to our Hot Air Balloon Reading Café today! We had a fantastic time reading 'The Atlas of Adventures' and constructing our own hot air balloons. ​​
26/04/17
Today in Year 4 we had a visit from Anglian Water. We learnt all about the water systems and even made our own sewage water! As part of this, we did some fair testing to see whether toilet paper and wet wipes act the same when added to sewage water. We now all know about what can and cannot go down our toilets!
25/04/17
Today we carried out our own experiment in class. We heated ice cubes and chocolate to find out what effect this had on the solid. We then had a go at making jelly and discussed reversible and  irreversible reactions.
25/04/17
In Year 4 this week we have planted a range of different plants (including beans). Over the next few weeks, we will be developing our observation skills in science and will observe daily what is happening to our plants. This will also help us to develop our understanding of the life cycle of a plant. Come along and look at the plants in our classrooms!
20/04/17
This term every class in school has picked a country of their choice as the theme for their classroom doors. Come along and have a look at ours in Lower Key Stage 2. 
Don't forget to ask your children what they have been learning about as part of our 'World of Possibilities' topic!
12/03/17
Over the past week, Year 4 have been completing an art project to design and build a papier mache model. We looked at the movements of people carrying out different sporting activities, for example gymnastics and athletics. We sketched the athletes and then used these as plans for our own models.
11/03/17
On Friday all pupils in Years 3 and 4 watched a performance of the play 'Round the World with Class 6' in our brand new drama studio! The actors were students from City College Norwich and the play taught the children all about the life of Sir Francis Drake.
25/02/17
It was safety awareness day this week. As part of this, we wrote our own poems about how to stay safe at home.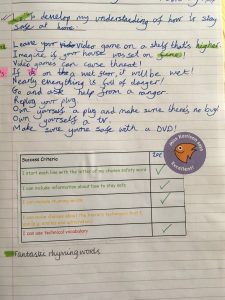 21/02/17
The children loved the new books and furniture that has arrived for the Library.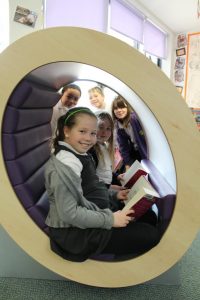 14/02/17
We have written performance poems for our Home Learning over the last fortnight. Take a look at some examples of our work. 
10/02/17
Les Hiboux class have been busy enjoying their theatre-themed reading corner. They have loved performing extracts from A Midsummer Night's Dream!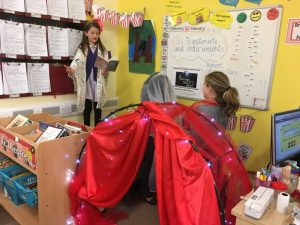 27/01/17
We are still enjoying studying A Midsummer Night's Dream. We nearly finished the whole play today and we reflected on how Hermia felt at the end of the story. We did a Conscience Alley, reflecting on what her father and Lysander would have said to her on her wedding day. We then wrote letters from Hermia to her father using Shakespearean language (including some funny insults!)
25/01/16
Inspired by the book 'Looking for Atlantis', we designed our own model vehicles to travel to Atlantis in. We designed the 3D models using Purple Mash. Once we had made them, we put our models over the top of some Bee Bots and wrote algorithms to move them around Atlantis. 
05/01/17
Over the next week, we are exploring the story 'Looking for Atlantis'. Today we began by doing some drama and emphasizing with the grandfather and grandson in the story.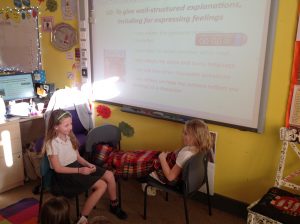 17/11/16
Thank you to everyone who turned up at our Construction Cafe, it was great to see so many parents, despite the awful thunderstorm.  
08/11/16
This week we have been learning about sound in science. We have learnt about how sounds are vibrations that can travel through different materials. Today we tested out different materials to make our own cup phones. 
06/10/16
Today we have been writing and solving 4-digit addition word problems. We had a go at using Base 10 on the iPads to support our understandings.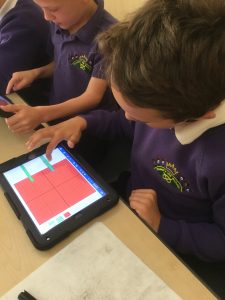 04/10/16
This week we have been focusing on developing our reasoning skills to become better mathematicians. We have been using our reasoning mats to help us. Yesterday, we solved a series of missing number addition calculations and had to reason about the patterns that we could spot between the different calculations
28/09/16
Today, Year 4 have finished making their Roman shields. Tomorrow, we will be evaluating our finished creations against our initial designs and sketches.
22/09/16
Thank you to everyone who attended our Problem Solving Roman Café this afternoon! We were so impressed with your knowledge of Roman numerals. Keep practising telling the time at home with the clocks that we made for your marvellous maths home learning!
21/09/16
Year 4 have been studying the Roman myth of Romulus and Remus. Today, we did some drama activities to familiarise ourselves with the story and empathise with the main characters. 
20/09/16
Today, Year 4 completed a maths problem-solving activity. The children had to apply their knowledge of place value to solve 'The Deca Tree' problem. We used our reasoning mats to support us to talk about our mathematical understandings.