01/02/17
Year 3 had a wood work day today! They have been busy researching and designing their own fairground ride and today they made them. The children were enjoying their learning so much they didn't even want to stop for playtime!
05/01/17
We all loved learning in our new classrooms today.
14/12/16
30/11/16
24/11/16
We have been learning about instructions and following instructions this week. We had to follow some instructions to make our very own origami Pikachu!
14/11/16
We had an Egyptian themed reading cafe. We read the story of Seth and Osiris. We then created a collage and water colour picture of the boat that carried Osiris to the afterlife. We also performed our Seth and Osiris text map with actions to the story.
08/11/6
Year 3 have been learning about play scripts. We identified the features in play scripts then had a go at acting one out. We had to look at the stage directions as well as the words! Take a look at our drama…
31/10/16
Coding photos and bonfire night text map photos.
The children loved coding to get their ghost to move across the screen.
18/10/16
We will be mummifying fish at the end of the week! Look out for these photos!!
10/10/16
The year 3 children had a great day at the castle museum.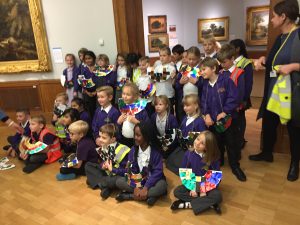 06/10/16
We have been learning a newspaper report text map about the mysterious death of King Tutankhamun.
They then created their own Tutankhamun death report which they have planned as a text map of their own.
We have started to make our own Tutankhamun death masks out of mod-rock. Phase 1 complete! 
05/10/16
This is Caitlyn writing an explanation of the expanded column method for her little brother Aaron (see link below)
We have been practising written and mental methods for addition and subtraction and will be applying these skills to problems and real life situations. 
15/09/16
Our Jelly Bean cafe was a huge success with both children and parents today.
The children had to estimate how many jelly beans were in the jar and the closest would win the whole jar!
Rowan in Les Taupes won and Isaac in Les Herissons won.
A parent said, "We could have spent all day doing this."
The children had jelly bean themed activities, games and puzzles and thoroughly enjoyed munching a few jelly beans at the same time!