Enjoy reading our Year 3 creative learning blog.
01/05/18
Year 3 had their
Courage
Cafe
this afternoon. We read the story of 'The Lion Inside' and then made our own craft mice and lions.
23/03/18
Today Year 3 had an amazing Egyptian Day at Norwich Castle. 
Today we learnt about mummification and we looked at various artefacts that were over 3000 years old.
After lunch we made Egyptian necklaces and learnt about the everyday life of Egyptians.
19/03/18
Children today got the chance to visit the local Costessey Library, they loved choosing the books and were very engaged. It was great to see the smiles when they received their Library cards.
13/03/18
Today Year 3 had 3 fantastic science activities!
Magnetism
First of all we investigated magnetism and discovered that not all metals are magnetic. We also discovered that not all 2ps are magnetic. 2ps from before 1992 were made from bronze and not steel!
Density
We experimented with different liquids to see which liquids were more 'dense' than others.
Mummification
We mummified our very own tomatoes!! Yes, I did say tomatoes! We scooped out all the insides. We weighed our tomatoes and recorded this as a starting weight. We then we used table salt and bicarbonate of soda to create a natron substitute. We are going to leave these for two weeks to see how they are preserved! We all made predictions about what might happen.
08/03/18
Today Year 3 have been making their own bread rolls!
09/02/18
We had a great afternoon testing our water rockets to see which rockets were most successful. We tested different amounts of water as well as different aerodynamic features to see which would go the highest. We did get a bit wet in the process but this just added to the fun!
We had great fun until we lost them on the school roof!! Mr. Giraldo had to be called with his ladder so we will have to complete our rocket launching after half term!
Click on the video links below to see our rocket launch.
06/02/18
Year 3 had their Maths Jelly Bean Cafe this afternoon. We took part in investigations, games, puzzles and used our reasoning skills.
We had to estimate how many Jelly Beans were in the jar. The closest person to the exact amount won the jar. D'Lila in Les Taupes guessed the exact amount of 419!! She said it was her lucky number!​
23/01/18
Today Year 3 had their after school 'Paradise Reading Cafe.'
We read the story 'The Paradise Garden' and then painted our own paradise gardens.
All parents received a raffle ticket with a chance to win a 'Gardening for Beginners' book.
In Les Taupes, Regan's grandma won the prize and in Les Herrisons, Rylee's mum won the prize. 
The children also have the chance to win their own 'Grow my own flower garden' by entering an extra competition. All they need to do is go home and write a description of their own paradise. (This doesn't have to be a garden.)
They can include, similes, metaphors, personification as well as interesting adjectives and sentence openers. Entries need to be given to the class teacher by Monday 29th January.
22/01/18
Year 3 have been reading and studying Anthony Browne's 'The Tunnel.'
We have been doing lots of Talk for Writing and drama activities as well as writing in role!
We even spent a lesson pretending we were writing in our own tunnels!
14/11/17
Today Year 3 enjoyed an afternoon making moving owls. We read the story, 'The Owl that was Afraid of the Dark' and then created our own owls. We had a raffle for the parents. Congratulations to Ashton  and Caitlin Mums who both won copies of the book!
The children have been invited to enter a competition to design the most creative owl. Entries are to be handed in to their class teacher before Tuesday 21st November. One child from each class will be chosen to win another copy of this beautiful book. 
07/11/17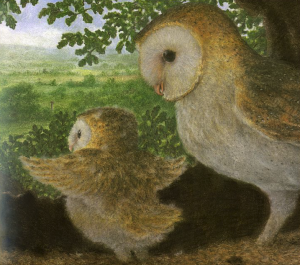 Next Tuesday 14th November from 2-3pm, Year 3 are hosting an Owl Cafe . There will be a raffle ticket for each adult that attends for the chance of winning a copy of our special book! Refreshments too! We hope to see you there!
16/10/17
Today Year 3 had a cross country competition. The children had to run 5 laps of the school field which totalled 1500m.
The first girl to complete the 1500m was Sophie M
The first boy to complete the 1500m was Luigi C
All children ran really well with lots of grit and determination! You made your teachers very proud!
05/10/17
Today we have been focusing on our creativity focus and have used a variety of media to create our own water art work.
We have been learning about play scripts and have acted out the traditional tale of The Three Little Pigs.
We wrote our own endings to the story. We edited and redrafted our play scripts and produced finished pieces of writing using our computing skills.