Enjoy looking at our Year 2 creative learning blog.
03/05/18
Year 2 learnt about dog safety today with Jo from 'The Dog's Trust'. We found out how to be safe around dogs and learnt about the best times to pet them!!
26/04/18
Year 2 had great fun this week becoming paleontologists!
28.03.18
Year 2 had an extremely exciting day today!! We dressed up in royal clothing and we enjoyed a banquet at a long, candle lit table while listening to medieval music. We also learnt about medieval dancing and made our own shields!
27.03.18
Year 2 created a container for the fierce dragon today! We thought about what material would be suitable by considering how strong and waterproof it is.
19/03/18
Thank you to all the parents/carers who attended our cafe this morning.
We hoped the cafe helped you to understand how you can support your children at home to infer form a text.
14.03.18
Woodland Trip
Today, year 2 visited the woods. We collected things like sticks, leaves and stones to create our own piece of art (inspired by Andy Goldsworthy), keep an eye out for our art work soon!
13/03/18 
Ribbon Art
Today, year 2 created some fantastic art work on the playground railings…We used bright colours and weaving to create an effective piece of art for everyone to enjoy!
08/03/18
Even the KS1 team dressed up as fictional characters.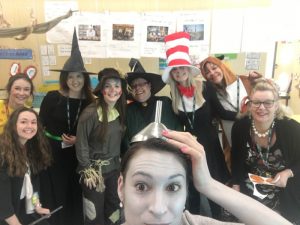 28/02/18
The children had an amazing time in the snow at break time today.
12/01/17
Year 2 have been busy today! In Design Technology, they were given a cardboard box and lots of different resources…they were very creative!!
13/12/17
Well done for an amazing Nativity performance you all made us very proud.
06/12/17
Year 2 had a lovely afternoon at St. Peter's Church in Easton on Tuesday. We learnt about the Christmas story and enjoyed spending time in such a beautiful church.
27/11/17
Today year 2 have had lots of fun making puppet shows to rehearse what we will write tomorrow.
We made the characters and looked back at our story plan before entering the puppet theatre and showing the class.
12/10/17
Year 2 had a great time this morning at their 'Autumn Maths Cafe'! We listened to some Autumn poetry then practised some maths skills. We measured leaves and sticks in centimetres and weighed fruit in grams. We also created repeating patterns using pasta and paint then we practised our counting skills with stones, leaves and pasta. Thank you parents for coming!
04/10/17
We have been very creative again today making our very own maths table cloths!
Miss Allen gave us some questions and we used the 3 different methods that we have been learning to find the answers.
We are looking forward to adding to these tomorrow!
02/10/17
Year 2 experienced life in prison today – they wrote a letter to their family about how they felt and what they could see, hear and smell around them! They produced some fantastic writing! Well done!
28/09/17
Year 2 had a special visit today from a local fire crew. We learnt about fire safety and had fun in the fire engine!
28/09/17
Today we have been creating some acrostic poems about how wonderful our school is. We used dictionaries to help us find some more interesting words. We had a great time using our dictionary skills as well as writing some poetry.
27/09/17
Les Souris have been feeling very creative today! We created a dance and a piece of music to portray the feeling of 'sadness'…Well done!'