We hope you enjoy looking at our Year 1 blog which will show you some of the learning we have been doing in class.
11.7.18
We have had a busy day at Sheringham Park!
We did pond dipping and identified what we caught, environmental art where we searched for colours in nature and made sculptures using natural materials and we hunted for tiny creatures in their habitats. 
28/06/18
Today in Year 1 Maths, we have been exploring capacity. We enjoyed outdoor learning with water and we looked at how many units different sized beakers were. This helped us compare capacity and achieve our learning objective.
21.6.18
For the last few weeks we have been thinking about everything mythical! We have been writing explanation texts about mythical or made up characters – mermaids, one-eyed dragons… and in topic we have been continuing to help the Fairies. We designed and made fairy houses from clay and then designed fairy gardens. We went to the woods to create them with natural objects.
19.6.18
Les Abeilles went to the woods today to collect some materials for our fairy gardens.  Tomorrow we will be painting our fairy houses and finishing their gardens, keep posted to find out what they look like! Thank you to everyone that brought in a plastic bottle.
15.6.18
This week we have been learning to tell the time to the whole and half hours. We enjoyed playing games of What's the Time Mr Wolf to embed our learning.
We have been thinking about empathy as it is our whole school focus. We read a story called Can I Join Your Club and it got us thinking about including everyone and sharing what we are good at. We all wrote down something we are good at that we could do offer as a 'club' at playtime and we pick one out each day. So far we have had skipping and rhyming words clubs where everyone is included if they want to be!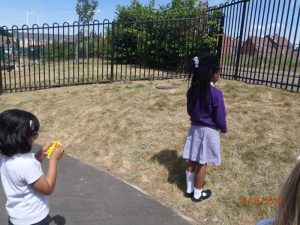 25/05/18
Thank you for coming and enjoying our Magical Cafe with us. We all had lots of fun making dream catchers, wands, creating a fairy garden and working on our handwriting.
22/5/18
Today in science we explored the school outdoor area and identified different plants, labeling and drawing them in our books.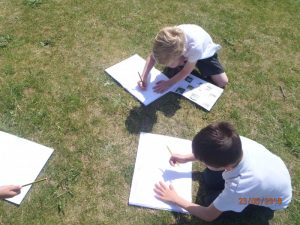 17/05/18
We have enjoyed reading 'Flower Fairies Magical Doors' and today in English, we made our own fairies. We thought about how they might feel in our classroom and can't wait to do more activities in our magical cafe next Thursday (24.5.18)!
14/5/18
What a creative day! We have been learning about our emotions and how we feel. We decorated doors for different emotions and then drew something to match the emotion behind the door. 
We continued our Georgia O' Keeffe work by painting our own flower sketches for the school art gallery. 
14/05/18
We have been exploring 'Textease' today in computing. We are beginning to learn how to create our own databases.
10/05/18
This week we have been visited by FAIRIES! We found doors and tiny fairies in the classroom and outside. We enjoyed writing outside about what we might find behind the doors, what they looked like and how we were feeling. Some children wrote almost a whole page! 
A big thank you to the family keeping the belief in fairies alive with this magical door! Watch this space for some incredible writing!
08/05/18
Year one have been inspired by the artwork of Georgia O'Keeffe. Today we used microscopes to enlarge real flowers and pictures. We then took pictures of the images we create on ipads. In art today we focused on form and drew our our favourite images. Tomorrow we will paint them. I am so impressed with our skills!
02/05/18
Some photos from our Guide Dog Cafe. The children took part in lots of activities, including having a go at writing braille, a partially sighted obstacle course and some maths problem solving. Thank you to everyone that came.
02/05/18
Today year one have been creating their own flower paintings inspired by Georgia O'Keeffe. We have been learning about tone and have used powder paints to create different shades.
24/04/18
Today we had a visit from a Guide Dog! We found out lots about how they are trained and why people need them. We learnt that you need to ask permission before stroking a guide dog as they are working, then we were able to say hello to Disney!
Watch this space to see how we will be fundraising!
23/4/18
This week we are continuing to learn about multiplication in maths. We have been looking at and making our own arrays.
It really helps us if we learn our 2,5,10 times tables. There are lots of fun songs that help us learn them!
19/04/18
Year 1 had a lovely time on the farm today. We saw lots of animals and did activities such as making flour and butter. Thank you Easton Farm!
28/03/18
The children had a great time with the phonics easter egg hunt.
28.3.18
This week we finished our learning about African tree dressing, by walking to the woods and dressing some of the trees. They looked lovely before the rain came! We even had a letter from a sausage dog, who loved what we had done!
26/03/18
We have had a busy day in Year 1! We were able to meet Miss Allen's tortoise, Tilly, and write sentences about what we noticed this morning. This afternoon, we were able to walk to the woods to dress trees as part of our Africa topic.
20/3/18
This week some children took part in a rugby festival!
There were lots of different activities linked to skills for rugby and the children all had a great time. They represented the school brilliantly and showed teamwork and determination. 
19/03/18
We all enjoyed seeing so many parents at our Africa Cafe hope you all enjoyed the activities.
09/03/18
We have been learning about Wilbur and Orville Wright in Science. We made our own aeroplanes and tested which one was in the air for the longest! Like the Wright brothers first plane, ours didn't have any propellers! 
08/03/18
Even the KS1 team dressed up as fictional characters.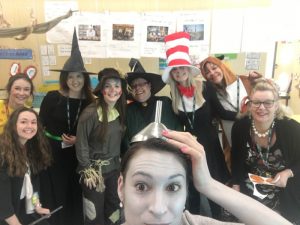 08/03/18
Year 1 had fun dressing up for world book day!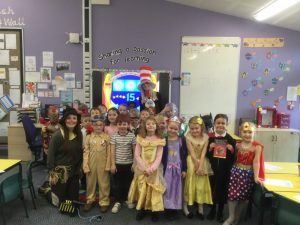 23/02/18
This week we have started to learn about Africa. We are learning the story 'How the Tortoise Lost his Shell'. We looked carefully at the patterns on tortoise shells and recreated these using clay and tools. 
09/02/18
Today we have been testing everyday materials seeing which ones make the strongest bridge. We had lots of fun and had to think scientifically!
08/02/18
This week we drew, made and painted rocks!
07/02/18
This week in we have been sketching, designing, sculpting and painting our own moon rocks! We have had lots of fun and we are pleased with the final product.
30/01/18
We wrote descriptive sentences in role as Neil Armstrong after our experience.
30/01/18
This week we have been making our healthy breakfast pots in cookery!
We also experienced what it may have been like for Neil Armstrong when he traveled to space in Apollo 11
25/01/18
This week in English we have been designing our own healthy breakfast pots for Goldilocks. We have been working hard to create our packaging over the last two days and we are proud of the results!
22/01/18
In Year 1 we have been exploring magnets. Today we experimented with them and felt the repel when we tried to put the south pole on the south pole and the north pole on the north pole. We could clearly feel the attraction of the opposite poles and the repel of the same poles.
17/01/18
Goldilocks hid some puzzle pieces in porridge oats. Once we found them we had to solve the puzzle by using all our maths skills and resources that we have in our classrooms. Well done to the red team who were first to complete the 16 piece tarsia puzzle!
12/01/18
There was a crime- someone had broken in and eaten Baby Bear's porridge.
We looked at cctv and went to the crime scene to look at the evidence. We wrote it all down, in detail, to give to the police. We created wanted posters which worked, they found the culprit, it was Goldilocks.
We were given a mugshot image from the police – we think we might recognise her! We then wrote some questions to find out why she did it, we were even able to ask these to her as an interview.
12/01/18
This week in Year 1 we have been exploring everyday uses of magnets. We had to test everyday objects to find out whether they were magnetic or not. We learnt about the different forces and enjoyed feeling the pull!​
10/01/18
We started cookery sessions this week in our school cookery room. We are learning to understand more about making healthy choices and we will eventually be designing our own breakfast pot. These photographs show children making a fruit kebab. We learned how to be ready to cook, remembering to wash our hands, tie our hair back and put an apron on. We then learned how to chop in a safe way and practised these skills when chopping our fruit. They tasted yummy!
09/01/18
In Year 1 this half term we are doing cookery. Today we sorted foods into plant or animal depending on where the food came from.
18/12/17
We did a science experiment today, exploring why snowmen wear coats.
We wrapped up some 'snowmen' in coats and left some with no coats and left them out over lunchtime. We found that the snowmen not wearing coats melted more quickly than those wearing coats. The coats are insulators.
Wishing you all a merry Christmas, happy new year and lovely break!
(And if we have some snow, wrap your snowmen in coats to make them last longer!)
15/12/17
In Les Sauterelles today we have been exploring the Art skill of collage. We made our own giant baubles using our learnt skills and we had lots of fun experimenting!
15/12/17
This week we have been working hard on performing our Nativity – A Midwife Crisis!
The children looked absolutely brilliant in their costumes, sang their hearts out and performed their lines so well!
Thank you for the hard work you put in with learning lines at home and supporting the children in the performances.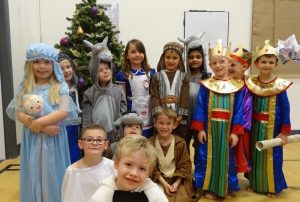 7/12/17
This week we visited St Peters Church in Easton to find out a bit more about the Christmas Story. 
The children had a lovely time with different activities in the Church and were so well behaved and respectful.
Don't forget to see the KS1 area of the website to see information about the Year 1 Phonics Check if you missed the meeting this week. 
27/11/17
This week in science we have been learning about keeping our bodies healthy. We had a dentist visit us to talk about how we can keep our teeth healthy. We learnt lots of interesting information!
20/11/17
This week in Year 1 Topic (computing) we are learning how to programme. We had fun learning how to programme the beebots today and we are excited to create our own maps for them to follow!
16/11/17
As we have been learning about toys in history, we had the opportunity to explore some 'old' games. 
Please make sure you come to see our Year 1 Toy Museum! 
15/11/17
In Year 1 we have been learning how to make and evaluate simple structures. We researched, designed then made our own kites. Today, we were able to go onto the playground and test them. We had lots of fun!
07/11/17
This week in Year 1 we have looked at toys now and then. We had fun in our Story Café making sock puppets and we even made our own Victorian cup and ball in Topic! In English, we brought in a current toy from home and wrote labels to help us create a toy museum. It was so interesting to see how toys have advanced!
03/11/17
KS1 are really enjoying the new addition to their playground and we might have found the junior 'Bake Off' mud pie champion! 
If you have any old saucepans, spoons, pots, soil or gardening equipment that you wish to donate, we would be very grateful! Please take any donations along to Miss Allen. Thank you!
01/11/17
This week in topic we are learning about our local area. We have been using Google Maps to explore Queen's Hills on the map, finding the school and other features of the community.
We did some field work, where we annotated a bird's eye view of the school with the MUGA, playground and car parks etc as we walked around the grounds.
We then had a go at sketching the school from a bird's eye view.
18/10/17
Today in Year 1 we have been reading Leaf Man. We enjoyed making our own leaf people and writing our own adventures!
12/10/17
Today we had fun at our Year 1 Maths Café. We looked at number bonds to 10 and read 'Ten in a bed' then we made ten in a bed to help us. It was great to see so many parents thank you for coming along.
09/10/17
This week in Year 1 we are creating story sticks and adding machines to help our learning. On Monday we enjoyed making them to help us for the rest of the week.
2/10/17
In Year 1 this week we have been enjoying listening to music and poems. We have been using this as a stimulus for writing our own poems. The children have enjoyed using drama to help form their ideas. 
In maths we have been exploring lots of ways to total the same number, by looking at number bonds. We are much more confident writing number sentences and are still working on our number formation.
We have been learning that people believe the world was created in different ways. We looked at the Christian creation story this week.
28/09/17
Children have been scanning QR codes in class to find out where Evil Pea (from book Supertato) had escaped to.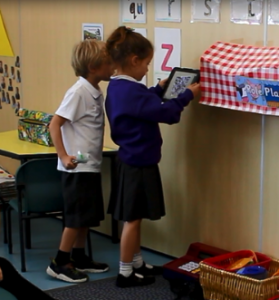 Monday 25th September
This week in Year 1 Maths, we have been practicing our skills using cubes, bead strings and other objects. We learnt how to write down the number sentences we created. In English, we retold the story of Supertato using play dough and we even wrote our own labels and captions!
Week beginning 18th September.
This week we have been busy learning about the circus in year 1. We have been working in groups to design and make our own circus! The children came up with some really imaginative ideas and were proud of their creations. They have been working on giving feedback to their friends including what went well and what they could do even better next time.
15/09/17
We have had a busy few days with worm charming, creating our own super vegetables and even writing speech for our new heros!
13/09/17
This week we have been reading 'Supertato', by Sue Hendra.
What a week it has been!  Unfortunately Evil Pea escaped in our cookery room and trapped some of our vegetables at school.  Luckily, we were able to design our own vegetable superhero to help.  We also wrote a caption to show how our hero might help.  We now need to use our creativity skills to design ways to help our heroes free the vegetables.  We will keep you posted on any sightings of Evil Pea!!