We hope you enjoy looking at our Year 1 blog which will show you some of the learning we have been doing in class.
7.12.17
This week we visited St Peters Church in Easton to find out a bit more about the Christmas Story. 
The children had a lovely time with different activities in the Church and were so well behaved and respectful.
Don't forget to see the KS1 area of the website to see information about the Year 1 Phonics Check if you missed the meeting this week. 
27/11/17
This week in science we have been learning about keeping our bodies healthy. We had a dentist visit us to talk about how we can keep our teeth healthy. We learnt lots of interesting information!
20/11/17
This week in Year 1 Topic (computing) we are learning how to programme. We had fun learning how to programme the beebots today and we are excited to create our own maps for them to follow!
16/11/17
As we have been learning about toys in history, we had the opportunity to explore some 'old' games. 
Please make sure you come to see our Year 1 Toy Museum! 
15/11/17
In Year 1 we have been learning how to make and evaluate simple structures. We researched, designed then made our own kites. Today, we were able to go onto the playground and test them. We had lots of fun!
07/11/17
This week in Year 1 we have looked at toys now and then. We had fun in our Story Café making sock puppets and we even made our own Victorian cup and ball in Topic! In English, we brought in a current toy from home and wrote labels to help us create a toy museum. It was so interesting to see how toys have advanced!
03/11/17
KS1 are really enjoying the new addition to their playground and we might have found the junior 'Bake Off' mud pie champion! 
If you have any old saucepans, spoons, pots, soil or gardening equipment that you wish to donate, we would be very grateful! Please take any donations along to Miss Allen. Thank you!
01/11/17
This week in topic we are learning about our local area. We have been using Google Maps to explore Queen's Hills on the map, finding the school and other features of the community.
We did some field work, where we annotated a bird's eye view of the school with the MUGA, playground and car parks etc as we walked around the grounds.
We then had a go at sketching the school from a bird's eye view.
18/10/17
Today in Year 1 we have been reading Leaf Man. We enjoyed making our own leaf people and writing our own adventures!
12/10/17
Today we had fun at our Year 1 Maths Café. We looked at number bonds to 10 and read 'Ten in a bed' then we made ten in a bed to help us. It was great to see so many parents thank you for coming along.
09/10/17
This week in Year 1 we are creating story sticks and adding machines to help our learning. On Monday we enjoyed making them to help us for the rest of the week.
2/10/17
In Year 1 this week we have been enjoying listening to music and poems. We have been using this as a stimulus for writing our own poems. The children have enjoyed using drama to help form their ideas. 
In maths we have been exploring lots of ways to total the same number, by looking at number bonds. We are much more confident writing number sentences and are still working on our number formation.
We have been learning that people believe the world was created in different ways. We looked at the Christian creation story this week.
28/09/17
Children have been scanning QR codes in class to find out where Evil Pea (from book Supertato) had escaped to.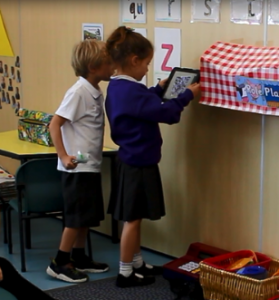 Monday 25th September
This week in Year 1 Maths, we have been practicing our skills using cubes, bead strings and other objects. We learnt how to write down the number sentences we created. In English, we retold the story of Supertato using play dough and we even wrote our own labels and captions!
Week beginning 18th September.
This week we have been busy learning about the circus in year 1. We have been working in groups to design and make our own circus! The children came up with some really imaginative ideas and were proud of their creations. They have been working on giving feedback to their friends including what went well and what they could do even better next time.
15/09/17
We have had a busy few days with worm charming, creating our own super vegetables and even writing speech for our new heros!
13/09/17
This week we have been reading 'Supertato', by Sue Hendra.
What a week it has been!  Unfortunately Evil Pea escaped in our cookery room and trapped some of our vegetables at school.  Luckily, we were able to design our own vegetable superhero to help.  We also wrote a caption to show how our hero might help.  We now need to use our creativity skills to design ways to help our heroes free the vegetables.  We will keep you posted on any sightings of Evil Pea!!