Gulliver's Travels is a group of KS2 children who meet regularly who have all shown to excel in reading.  This group has a book that they share, discuss and analysis and once the book is completed do a book review. This group is run by the Inclusion Manager and School Librarian but very much child-led in selection of books and discussion.
#gems club
Girls Excelling in Maths and Science.
A group of girls who meet every Thursday in the Maths Hub of the Library, who after they have eaten lunch, are set different challenges linked to Maths and Science by Miss Kerrison. 
06/07/17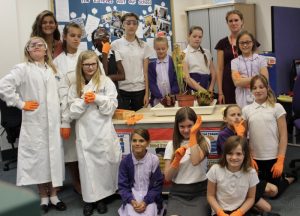 Today #gems club had lunch with Natalie Wager a scientist from John Innes centre they all had a great time and asked her lots of questions.
31/03/17
Today gems club applied their knowledge of ratio to make their own Easter Egg Cakes. They enjoyed using the new cookery room!
21/01/17
This week we carried out a scientific experiment to learn more about insulation. We tested and compared how long it took an ice cube to melt under different conditions (one was wrapped up in cloth whereas the other was not wrapped in anything). Come and speak to a member of #gems club if you want to find out more about what we found out!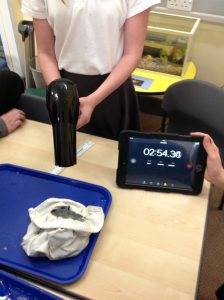 Friday 13th February 2015
Following an accident on the A47 near Little Melton this morning, the traffic was backed up to the A1047 which in turn brought the Queen's Hill Estate to a standstill. Residents and workers are normally used to being delayed up to an hour in the late afternoon/early evening to get off the estate but the congestion this morning was the most that had been seen for a long time.
The Queen's Hill School Ambassadors, Poppy and Sam, aged 11, took to the streets to find out what was happening.
A video clip was sent to local councillors and local media.  Below are some of the responses.
"This is brilliant reporting."  Town Clerk
Report on visit to Norfolk County Council – by Poppy and Sam Queen's Hill School Ambassadors
On the 9th of January 2015 we had the privilege to go to the Norfolk County Council with Mrs Sheppard. The reason we went, as most of you will know, was to get planning permission for an extension for our school.
After a quarter of an hour in the car we got to the building. It was gigantic. The structure of the building was like a fortress. Floor after floor of concrete and glass. The inside was a maze, with top of the line security to prevent intruders. We were given ID tags with our names on to get in. Soon a man came towards us and showed us where to go. He led us to a big marble room with a carpet with gold rampant lions on a maroon background. He pointed to the top left corner and told us to go there. Above the door was a large mahogany plaque that said "Edward Hall".
Once in the hall we saw a large circular table, an interactive whiteboard, a large map, drinking fountain and two rows of chairs. All of the councillors sat around the circular table and had ipads in front of them and a small microphone each.
After two hours that dragged on the first meeting finished and it was now our meeting. After a tense 45 minutes during which Mrs Sheppard delivered a speech and we were introduced to the Chairman, they came to an agreement with 23 "yes" and one "not sure". It was hard to understand but the odds were stacked in our favour and the permission was granted!