Enjoy looking at our creative learning blog.
12/07/17
This year Les Papillons Bleus have been having Polish lessons every Wednesday.  To celebrate all of our hard work we enjoyed tasting some Polish snacks and listening to some Polish music!
19/06/17
On Monday, we took part in The Big Toddle by wearing bright colours and walking around our school singing our favourite songs.
16/07/17
Our children spent some time working as a team to decorate Dizzy's run outside!
12/06/17
We enjoyed completing maths calculation challenges outside.  Some of us used natural objects like pine cones, others made marks on the floor with water and some people counted wheels on bikes.
09/06/17
We love to play outside and make up exciting narratives using lots of props! These children worked together and made up a detailed story all about dragons – they had a  dragon cave, complete with a nest and active volcano!
08/06/17
We debated pros and cons of different pets for Miss Race… Hamster won! 
08/06/17
We had our own Election in Green Butterfly Class. The children had to choose a new class pet. We came up with some ideas as to what would be good and bad about each type of pet and then we put our vote on ballot card.
We had a go at writing a name for the new pet afterwards!
07/06/17
The children had a great time with Robin the story-teller in the new Connie Forsyth Library reading books.  This was a Golden Celebration to celebrate all the reading they have been doing.
19/05/17
Today in Reception, we came to school to find that one of our teddy bears had made a big mess in the construction area. We pretended to be Policemen and Detectives to work out who it was and clear up the mess!
19/05/17
This week in Reception we have been learning about germs! The children were amazed to see some close up photographs and many were inspired to paint some germs! 
We have also been looking at what happens to celery when it is placed in coloured water.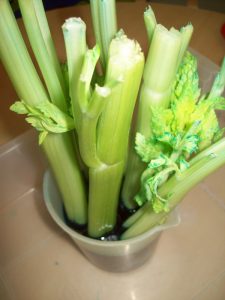 18/05/17
This week we went on a Bear Hunt around the estate! We practised crossing the road safely and how to walk carefully whilst out and about.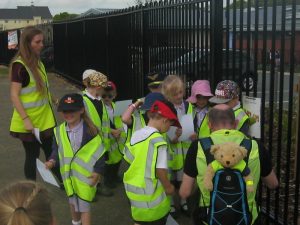 12/05/17
This week in Reception, we have been learning about the history of transport. We had fun taking turns playing aboard our train!
27/04/17
This week we have been using the story of 'Goldilocks And The Three Bears' to help us with halving
We also did some junk modelling to make new furniture for the house of the bears!
21/04/17
Our children really enjoyed receiving their bug finders this week and some of them have been out on the hunt already!
30/03/17
This week, we have been using the Singapore Bar method in maths to help us with subtracting eggs stolen by Hefty Hugh and Lanky Len from the story 'What The Ladybird Heard Next'
28/02/17
We had lots of fun learning about Shrove Tuesday.  We learnt about how it is celebrated in different countries.  We made pancakes, tasted them, tried to flip them and had pancake races.
21/02/17
Reception had the chance to visit the new Library today and they loved it.  As you can see the new books were flying off the shelves.
20/02/17
Reception children had great fun outside today, throwing the javelin in their PE lesson.
03/02/17
In Reception this week, we have been continuing to look at changes of state.  We melted chocolate blocks and reset them in ice cube trays.  We also looked at pasta (cous cous) and what happens when we add water.  We have been working on our prediction and reasoning skills.
23/01/17
Our school focus at the moment is 'Science'.  Recently in Reception we have enjoyed having lots of different things in our Explorers Area.  We have been making bubbles and testing how to make different shaped bubbles.  We have explored ice and observed what happens when it is left in a warm classroom and we made some bread, looking at the changes of state following reading 'The Little Red Hen'.
20/01/17
This week we have used mixed media to make a collage map of 'We're going on a bear hunt' by Michael Rosen. We wrote labels to annotate each part of the map.
18/01/17
The Reception children are enjoying our new topic – Poetry in Motion.  We have been looking at 'We're Going on a Bear Hunt'.  We have learnt about adjectives, made story map collages and acted out the story using large boxes.
Last week we learnt a story off by heart called, 'The Little Red Hen'.  This helps the children get used to story language which supports their writing skills.  The children have been retelling it during their play.  We performed it to Nursery.
15/12/16
Shhh! The elves have been busy making a fun, holiday, spelling challenge! See if you can work out the missing letters to spell the words.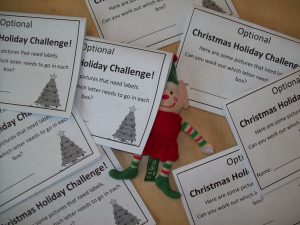 24/11/16
This week in phonics we have started using magnetic boards in pairs to form CVC words. Some children had a go at making some CVC words independently during provision time on their board and segmented the sounds.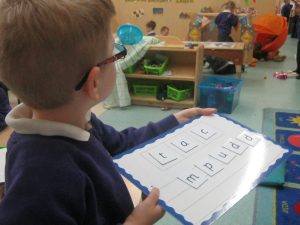 18/11/16
In Reception we are trying to make learning our 'Red Hot Tricky Words' as fun as possible.  This week we practised writing them in glitter!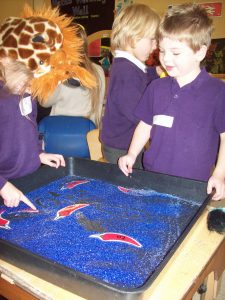 11/11/16
In Reception we have to learn how to spell some hard words.  We can't use our phonics to sound them out so have to learn them by sight.  We call them 'Red Hot Tricky Words' and can be seen around your classroom on a red pepper.  As spelling is our focus this half term the adults are busy making your own mini peppers to take home soon so you can practise them at home too.
30/10/16
This week in Reception we have been solving lots of problems!  We have been finding the missing number in a sequence, and sorting 2D shapes. We also had a go at removing the pumpkin seeds and counting how many they could see.
21/10/16
This week we have been working hard with our problem solving in 'busy time'. We have been working hard to build models with 3D shapes, and we have been busy sorting beads into different colours.
20/10/16
This week Maths Monkey went to visit the new school being built! It was really interesting to see how it is taking shape!  We had to wear special protective clothing.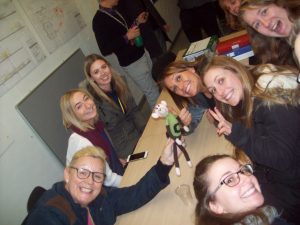 We have been on a shape walk around school looking out for shapes and explaining how we know they are that shape.  On Thursday we tested 3D shapes to see which ones roll the best down a ramp, we tried to work out why some were better at rolling than others. In our topic lessons we have been learning about the seasons, we sorted photos and tried to justify our decisions.
13/10/16
Problem solving- ordering hedgehogs by size, making the longest beanstalk from green paper at our Fairytale cafe and using Duplo to measure the length of Rapunzel's hair.
06/10/16
This week in Reception the children have been learning to use positional and directional language.  They have been applying it to 'real life' contexts using our small world knight figures and our home made castle.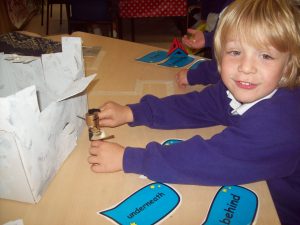 28/09/16
Whole School Problem Solving Day! We were set a challenge to help the King build a castle with equal length walls.  We had fun using Duplo to help us create different sized castles.
This week we have been talking about times of the day.  We discussed why we do things at different times and made up funny stories with things happening in the wrong order!  We used picture cards to help us.