Enjoy looking at our Reception creative learning blog.
10th October 2018
On Monday we came into our classrooms to find a terrible mess!!!
The children investigated what could have happened and came up with some great ideas.
"Maybe it was a bear because he would be strong to flip the table."
"It was a giant ant!"
We then read the story 'The Great Storm' and the children helped build some new homes for the animals.








8th October 2018
We got back to class after lunch to find there had been a storm in our classroom!


We talked about what we think had happened and we found a Percy The Park Keeper book called 'After the storm' which we read in class. We talked about the storm in the story and what Percy and the animals did to fix the damage.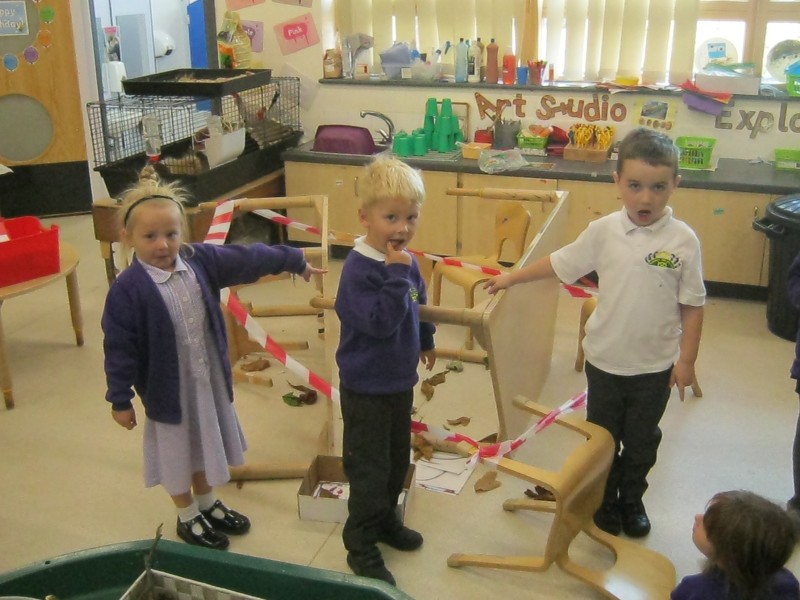 5th October 2018
This week Reception have been reading 'The Scarecrows' Wedding' and enjoyed making some scarecrows in the outdoor area.
We have also been talking about the changes in Autumn and discussing all of the things we notice. I wonder what you can find on your way to school? Can you find some different coloured leaves?
We have also focused on being 'safe' in school this week, which is one of our school rules. Today the children in Reception had a fire practise and were all super stars!! Well done Reception.
Thank you all of the parents and family members who attended our first cafe on Thursday. We look forward to seeing you at the next one 🙂  







20th September 2018
This week in Reception we made an interesting discovery! We found some mystery foot prints in our classroom and have been investigating who they belong to. The children came up with some great ideas…
"They might be a dinosaur"
"It's a big bear"
"It could be a tiger. They have big feet!"
We measured the size of the prints and thought about what animals it couldn't be.
17/09/19
Reception have been settling into their daily routines and rules and exploring their new classroom and outdoor area.