Enjoy looking at our Reception creative learning blog.
21/5/18 we learnt all about symmetry and Morocco. it looks hot and sunny!
14/5/18 we had a visit from paramedics in an ambulance. the children all got to go inside the ambulance! 
27/04/18
This week we have been leaning about 'The Hungry Caterpillar' and the children enjoyed sharing the story with parents and carers at our Explorers Cafe. We have also been learning about mixing colours.
25/04/18
The children enjoyed the Hungry Caterpillar Cafe.
"I liked finger painting a caterpillar….He's really long."
"I liked the strawberry for snack."
"I made a caterpillar with the boxes. He's green!"
Thank you to all of the parents who came along.
23/03/18
A great way to get children engaged with reading. Children have enjoyed using the QR Codes to listen to an audio book.
Children have enjoyed using the QR Codes to listen to an audio book.
16/03/18
This week we have been making story maps for the book 'What the ladybird Heard', learning about money, and making clay animals.
08/03/18
We all had great fun dressing up on Queen's Hill Book Day.
02/03/18
This week we have been reading 'The Gruffalo,' and enjoying the snow!
23/02/18
We have had fun learning about the Chinese New Year this week. The children have been using spiders and other toys to make real life addition stories, and then written the number sentences. The sun has shone at times, and the children have been enjoying their outdoor learning. 
05/02/18
We have read the story 'How to Catch a Star' and thought of different ways to catch our own one. The children came up with some amazing ideas!
We have also been busy making our own rockets.
08/01/18
Following on from our 'Eureka' curriculum day, the children have been busy learning all about space. We have chosen some things we would like to find out about and have started making our own rockets to 'blast off'!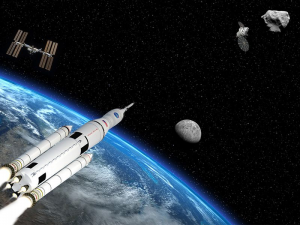 We also drew our second self-portraits to see how much we have changed this term. Come and see these displayed in our classrooms.
14/12/17
On Wednesday 13th and Thursday 14th December, the reception and Nursery children performed the nativity play 'Shine Star Shine'. They did a fantastic job of singing and remembering their words!
4/12/17
In EYFS the children have been reading The Jolly Christmas Postman, practising for The Nativity Performance, and constructing things.
27/11/17
Children had fun in EYFS making repeating patterns, reading the three billy goats gruff, and making their own monsters.
24/11/17
In EYFS this week we have been reading the gingerbread man, and we had a parent explorer's cafe on Thursday. All reception children took home a copy of 'The Bumblebear' donated by The Book Trust.
16/11/17
We have been making porridge, reading Goldilocks and the Three Bears, and talking about healthy foods.
30/10/17
The children have been reading and learning about 'Each Peach Pear Plum' and making firework pictures this week.
19/10/17
This week in Reception, we have been exploring the properties of 2D shapes. We were very excited on Tuesday to have an aeroplane fly around our school to take a photo of us from the air- we had to gather on the big playground and wave! We began having a go at blending 2 and 3 letter words in phonics using magnetic letters and we tried some pumpkin soup after reading the story 'Pumpkin Soup' this week in class.
13/10/17
This week in Reception, we read the story of Stick Man and we each went on a Stick Man-inspired journey outdoors to see what we could find and recalled where we went. We also explored different instruments and had a go at singing and playing a simple rhythm.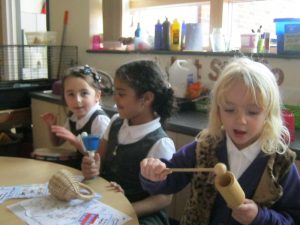 06/10/17
This week in Reception, we read the story of 'Leaf Man'. The beautiful illustrations in the story inspired us to make our own leaf pictures and we explored what happened when we mix the three Primary colours to
make green, purple and orange. Can your child name the three primary colours?
04/10/17
The children and parents had a Bear Hunt themed cafe. We read the story together as a class and then the children took part in making bear biscuits, decorating a bear mask, retelling the story 'We're Going on a Bear Hunt', finding out about other types of bears, making binoculars and going on a bear hunt in the outdoor area.
27/09/17
We have been making our own textured Bear Hunt story maps in Reception and retelling the story.
This week, each Reception class has also made a collaborative piece of art on A1 card to add to a school scrap book.
15/9/2017
A big warm welcome from the Reception Team! We hope your child has had a fun and exciting first week at school.
This week we have been learning the names of the other children and adults in our class and finding out about the daily routines in Reception. We also had our first Curriculum Day on Friday and tried lots of fun Creative Learning activities. Look out for the magical fairy houses in the Fieldfare Way entrance! We have to be very quiet so that we don't scare the fairies 🙂