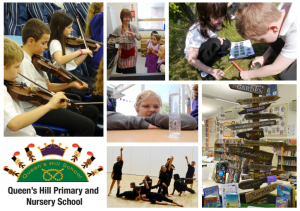 OPEN SCHOOL
Queen's Hill Primary School
Wednesday 6 th December 2017 9.30-11.30am
Come and find out about the "8 week plan"
(our approach to school improvement planning); how our
middle leaders are accountable and how we have created a passion for reading.
Walk freely around our growing school. Meet senior and middle leaders to learn
about different roles in creating improvement plans that motivate staff and bring about improvement.
We can show you our planning, staff engagement approaches, how plans are led,
how we share the focus of plans with our pupils and how we judge impact.
Molly, Jasper and Seb (our school dogs) would love to meet you too!
Take a look at our website and if there is something in particular you would like
to see then just email us in advance – Limited places available – £20 per person.
Refreshments upon arrival.
Each delegate will receive a booklet on School Improvement Planning –
further copies available £10 per booklet.
Queen's Hill Primary and Nursery

To book a place please email admin@queenshill.norfolk.sch.uk