Archive for September, 2017
Creative

Learning 
16/101/7
We love our new house display, which is in the school hall.  Have a look when you next walk past.  I think you will agree, with the support from Mik a local artist, the children have done an amazing job.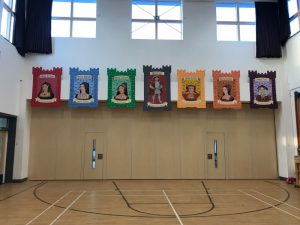 09/10/17
We are delighted to announce that the Bessie's Wings Art Exhibition is currently being displayed in the City Hall in London. STOP PRESS … we will be exhibiting the work of Queen's Hill Primary School students at the Millennium Library in the Forum with a special opening on Friday 3rd November at 4.00pm more details to follow.
Harvest Assembly
On Friday 29th September, Years 1-6 gathered in the hall to share their harvest festival themed songs, poems, art work and research. The vibe in the hall was heart-warming and all children enjoyed singing along and applauding classes hard work. The room was filled with lots of creativity! Year 6 shared a poem, Year 5 sang 'Let it Grow' a re-make of Frozen's 'Let it Go', Year 4 beautifully sang a song that they had been learning, Year 3 rapped a harvest festival rap (written by the very talented Mr King), Year 2 created art work inspired by Giuseppe Arcimboldo (an artist who covers faces in fruit and vegetables) and Year 1 shared a song with accompanying actions. Well Done to all children for their involvement and hard work!
Today we had our Creative Learning Curriculum Day! The children had lots of fun exploring a variety of different activities including, dancing, making musical instruments, story telling, graffiti, drama and creating fairy houses.
The children will be bringing home a page of exciting Creative Learning activities for you to help them complete. When your child has completed an activity please share with their class teacher. We would love to see what you have been doing!
You can then take a photo and post entries into the box outside the main hall to be entered into a competition. Remember to add your name and year group!
Lets get creative!