03/07/17
We are delighted to say we have achieved Silver Award.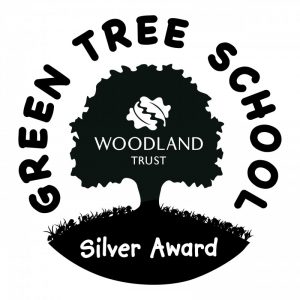 Whizzy Wednesday planned events.
Week 3 – Skipping
Week 4 – Nature Search
Week 5 – Bouncing Balls
Week 6 – Wheels
Week 7 – Sticks
Week 2 14/06/17 Whizzy Wednesday – Bug Hunt
The children at lunchtime today,  had the chance to go on a bug hunt and put any bugs they found in the school Bug Hotel.
Week 1 07/06/17 – Whizzy Wednesday – Outdoor Reading
Books and beanbags were taken outside for children to read and share a story.
06/06/17
Today was the launch of our new focus of Outdoor Learning.  Not even the weather could spoil the Outdoor Learning day. Children have had a great day completing a variety of activities including bug hunting, art, sport, outdoor safety and reading/drama in the tents. Watch this space for 50 things to do with your children outdoors, coming soon!
We are delighted from all of our outdoor activities at the launch of our topic we have achieved the Bronze Award from the Woodland Trust.