Archive for September, 2014
As you can see the children had a great curriculum day with Bollywood Dancing, learning greetings from different languages within our community and using atlases to plan a journey.
The topic this term is Time Travellers, and if you haven't seen it yet pop into the main entrance to see the Queen's Hill Museum.
You will see the 6 famous time travellers who visited Queen's Hill on Curriculum Day Friday 19th September,
and some amazing artwork and photos from the day.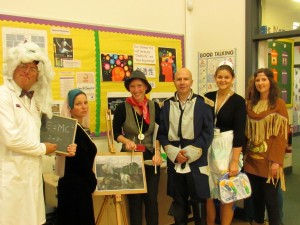 Albert Einstein. Anne of Cleves, Sir Alfred Munnings, Lord Admiral Nelson, Edith Cavell and Pocahontas.
All of the Time Travellers have a connection with Norfolk, for more details visit the museum.
Take part in the Time Traveller Quiz in the museum, and see how many objects you recognise!!!
If you have any artefacts you would like to add to the museum then please take to the school office.